Overview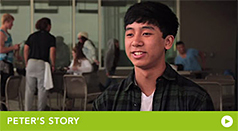 Step Forward: Priority Registration
Learn how the priority registration process helped these Community College students focus on their priorities and get on the right track to completing their education.
At College of San Mateo, you will find a vibrant, lively, beautiful campus, which provides an excellent learning environment for students. Students choose CSM because of its location, program opportunities, comprehensive course offerings, and record of student success (transfer & degree completion).
Whether your goal is to start out on a path toward a successful career, begin your university studies at CSM, or get an early start on higher education, CSM has a variety of on-campus and off-campus programs, services, and activities to help you reach your educational goals.
Connect to College
A Night of Information for High School Seniors and Parents
April 2020
CSM College Center Building 10, Bayview Dining Room
Meet CSM students, faculty, staff, administrators and alumni on this special night. Learn how CSM can help you reach your transfer and career goals!
RSVP for C2C 2020 this Fall!
College Connection (Grades 9-12)
High school students can take advantage of an exciting enrollment opportunity at CSM called
College Connection Concurrent Enrollment Program
. This enrichment program enables students who are still in high school to get an "early start" on their college experience, and benefit from advanced scholastic or vocational work. It's free - for up to 11 units per semester!
New student registration is currently open for students who have completed the
Steps to Enrollment
.
Priority Enrollment Program (PEP) For High School Graduates
CSM has designed a unique program for high school seniors to provide an easy transition from high school to college. The
Priority Enrollment Program
(PEP) guarantees priority enrollment and early registration in classes for Summer and Fall semester classes.
We look forward to assisting you further!