Overview
Contact Us

SparkPoint at CSM
Building 1, Room 147
(650) 378-7275 Phone
(650) 574-6259 Fax
csmsparkpoint@smccd.edu
Semester Hours
Mon‑Fri
8:30 am ‑ 5 pm
Closed weekends & holidays
Summer Hours (6/10-7/18)
Mon‑Thu
8 am ‑ 4:30 pm
Closed weekends & holidays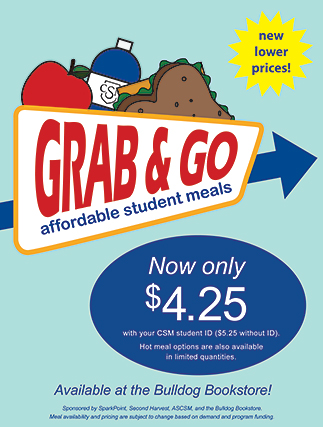 SparkPoint serves students and other San Mateo County residents with individualized financial coaching, public benefits enrollment, and access to the on-campus food pantry. Services are available on a drop-in basis and by appointment.
Take charge of your money today and schedule your free financial coaching appointment by calling (650) 378-7275!
We welcome walk in visits to our food pantry Monday-Friday, 8:30 am - 5 pm in Building 1, Room 147.

Why Meet with a Financial Coach?

Benefits Enrollment

Food Pantry

Budget Planning

Credit Score Education

Banking Relationship Support

One-On-One Financial Coaching Sessions

Financial Education
Workshops
Eligibility screening for public benefits including General Assistance,
Cash Assistance,
CalFresh and Medi-Cal.

Referrals and program information for emergency housing, child care, transportation, and other support programs.
Healthy food for students and families in need!

Shop for milk, eggs, an various proteins, dry and canned foods.

Individuals and families are eligible to visit the Food Pantry on

a

weekly

basis.