Overview
SparkPoint serves students and other San Mateo County residents with individualized financial coaching, public benefits enrollment, and access to the on-campus food pantry. Services are available on a drop-in basis and by appointment. Take charge of your money today and schedule your free financial coaching appointment by email at
csmsparkpoint@smccd.edu
or calling (650) 378-7275!
Why Meet with a Financial Coach?

Benefits Enrollment

Free Groceries

Budget Planning

Credit Score Education

Banking Relationship Support

Free Tax Preparation
Eligibility screening for public benefits including General Assistance,
Cash Assistance,
CalFresh and Medi-Cal.

Referrals and program information for emergency housing, child care, transportation, and other support programs.
Free groceries for students and families in need!

Shop for milk, eggs, and various proteins, dry and canned foods.

Referrals to other food programs.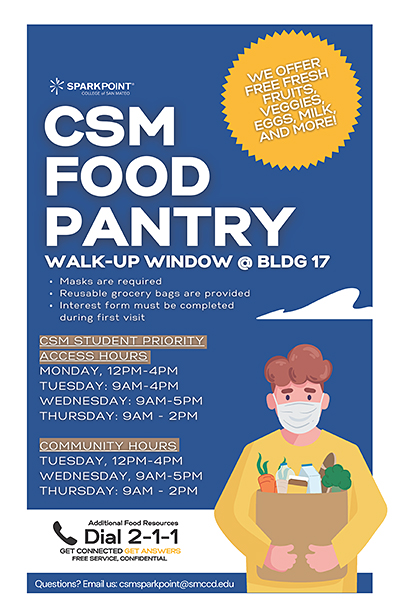 CalFresh
CalFresh is a nutrition assistance program funded by the United States Department of Agriculture (USDA) that can help students buy the food they need to thrive and live healthy lives. SMCCD campuses have Sparkpoint staff who can help students to complete the application process and determine if they qualify to receive this benefit.
Student Eligibility

Students can only qualify for CalFresh if they meet specific criteria. For example, students who work least 20 hours a week, or are approved for federal work-study, or are parent, may qualify.
Please contact your Sparkpoint office to help with your application.
Contact SparkPoint

CSM Sparkpoint
csmsparkpoint@smccd.edu