CSM Historical Display
College of San Mateo: 100 Years of Making Dreams Come Through
October 29, 2022 - August 27, 2023
Tuesday-Sunday, 10 am - 4 pm
San Mateo County History Museum
2200 Broadway, Redwood City, CA
On October 29, 2022, the San Mateo County History Museum at 2200 Broadway in Redwood City, will open the exhibit College of San Mateo: 100 Years of Making Dreams Come Through. Yes, "Through" not "True." The play-on-words alludes to the College's impressive record of getting people "through" their challenges in order to achieve their dreams.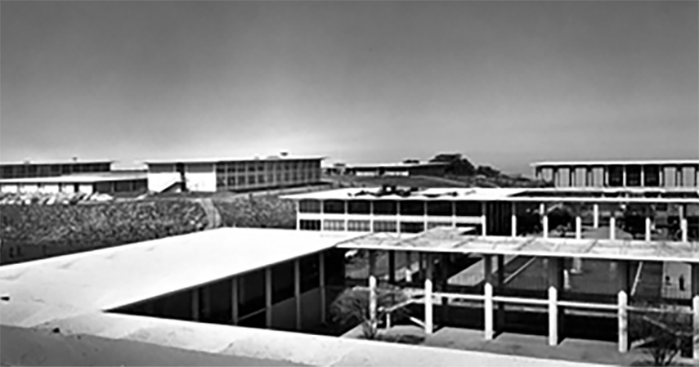 For a century, students with various dreams for their future have been attending College of San Mateo (CSM). Some dream of becoming the first in their family to earn a degree. Some would like to learn a particular subject or obtain skills to begin work right away in a field of their choice. Still others attend as the first step in transferring to a four-year college. Whatever the dreams, CSM has provided classes, activities, and a place where students can share their voice as they work toward achieving their personal dreams and aspirations.
The public is invited to view the exhibit and learn about the history of the college and how it has served the community. The exhibit includes photographs, videos, publications, artifacts from both the college's and the History Museum's collections and memorabilia saved by alumni and their families as a remembrance of their CSM experience.
Admission will be free at the History Museum on opening day. The exhibit will run through August 27, 2023.
Visit the San Mateo County Historical Association website for more information.
Special Historical Panel Discussion: Striking for Change: The College Readiness Program and Its Legacies
As part of the exhibit's opening day activities, The Courthouse Docket (a special historical panel discussion series presented by the San Mateo County History Museum) will be presenting the historical panel discussion titled Striking for Change: The College Readiness Program and Its Legacies.
In 1966, CSM launched the College Readiness Program to engage students of color alienated by the educational establishment. The program experienced great success in combining inclusive curriculum, student services, and student leadership.
With its success, college administrators wanted greater control over the College Readiness Program. This desire led to the removal of peer tutors and cuts to program funding. In October 1968, this tension manifested as a series of confrontations known variably as the CSM Student Strikes or the CSM Riots. The establishment of an Ethnic Studies Division was a part of the demands made by student strikers. Among the panelists discussing the College Readiness Program will be Edgar Mojica Villegas, Assistant Professor of Ethnic Studies at CSM, who will help place the CSM experience in the larger context of Third World Student Strikes of the 1960s. After the strikes, the College Readiness Program continued in a different format. These programs served as a model for the Multicultural Center & Dream Center (MCCDC) and Extended Opportunity Programs and Services (EOPS) today.
Striking for Change: The College Readiness Program and Its Legacies
Courthouse Docket Historical Panel Discussion – Free Admission
Saturday, October 29, 2022, 1-2:30 pm
San Mateo County History Museum
2200 Broadway, Redwood City, CA