College Readiness Program
A College of San Mateo program founded for Black learners in the idealistic 1960s changed the lives not just of its students but also of its teachers and supporters, who forever raised the bar for how educators reach communities of color.
CSM's College Readiness Program, decades ahead of its time, nurtured the whole student. It offered cohort-based learning, culturally relevant curriculum and tutoring, work-study jobs, free transportation and books, and intensive counseling. It treated students with respect, a welcome change for learners used to being condescended to at best, at worst reviled or ignored.
"CRP opened the doors to so many people," said Margarita Aguirre, Class of '69, who worked while in school finding part-time jobs for other CRP students. "It changed me. It transformed me. That was the beautiful thing."
The program was the idea of college President Julio Bortolazzo, who was galvanized by the 1965 civil rights actions in Selma, Ala., to expand Black access to higher education. Back then, CSM had only a handful of African-American students. Of these, roughly 1 percent went on to a four-year college.
Asking for faculty volunteers to improve these figures, Bortolazzo got one: Jean Wirth, a young counselor and English instructor who regularly went to great lengths for her students. Robert Hoover, an East Palo Alto community leader and Sequoia Union High School District trustee, became CRP's director. In spring 1966, CSM crafted a program that would defy expectations by enrolling only students of whom formal education had shown no expectations at all.
"They had to be of color," Wirth said in a 1996 oral history for the University of California's Bancroft Library. "They had to be poor. They had to have done badly in school, they had to hate school, and they had to not want to go on to [more] school. That was a very, very intentional selection, so that if we were using it as a pilot to demonstrate anything, it would."
About 40 students, all African-American and mostly from East Palo Alto, signed up in summer 1966. They took six weeks of English and math and, if they wished, worked a few hours daily in work-study jobs around campus. A free bus or carpool took them to school and back.
Tutors came to their homes each evening. CRP students had hiring authority over these tutors, free to reject those who came across as insensitive. What they weren't free to do was give up. If they failed to show for class, Wirth or Hoover would jump in their cars and comb East Palo Alto looking for them.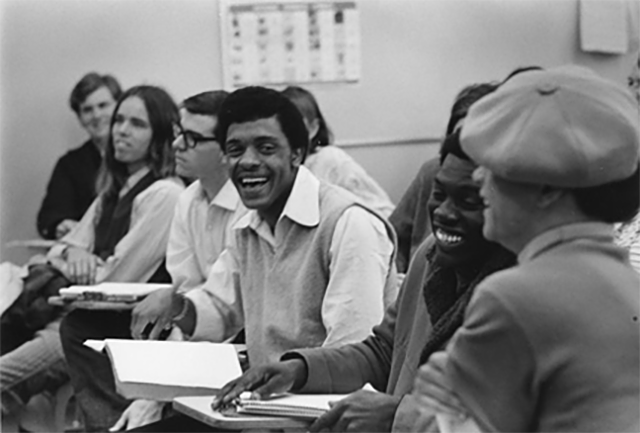 CRP student Lenny Haysbert, center, laughs with classmates including fellow CRP student Carlos Joe Costa, far right, in 1968. Photo: Isago Isao Tanaka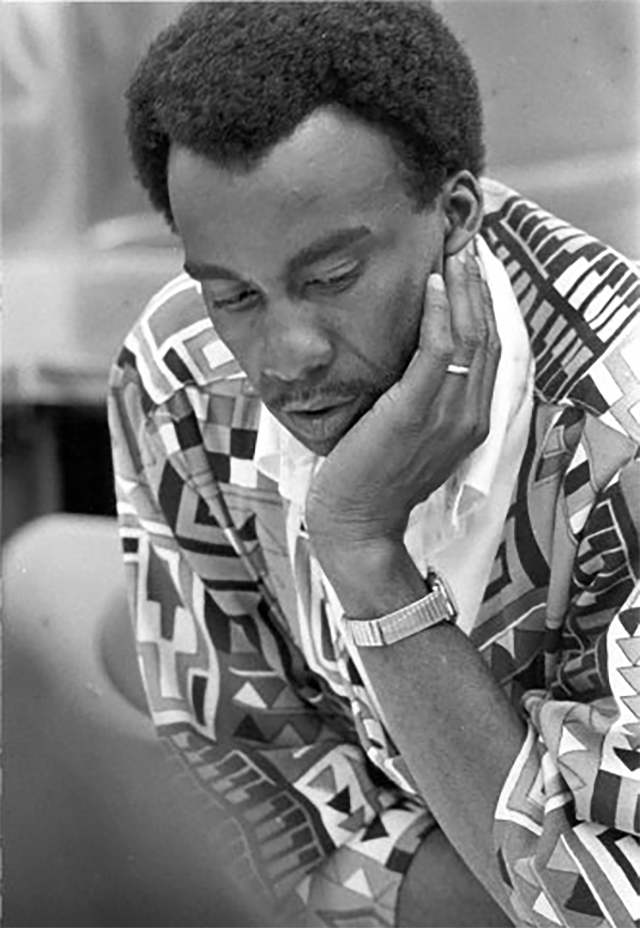 College Readiness Program director Bob Hoover in the 1960s. Photo: Isago Isao Tanaka
Of the initial 40 students, all but three continued at CSM. Word of the program grew. Black students enrolled from throughout the Bay Area and beyond. Soon, Latinx and Asian-American students asked to come aboard and were accepted. By 1968, CSM enrolled more than 1,000 students of color, 650 of whom were Black.
CRP tutor supervisor Doug Barker described the objective as "Black-humaneness." Other people of color blossomed as well.
"I loved my parents, I loved my family, but I was also embarrassed," Aguirre said. "One Black student, one of the leaders, Doug Campbell, told me to be proud of my race."
Student John Brandon described his new life in a 1968 poem:
Standing in the middle of life's pool
I had the comfort of my blindfold snatched.
Tears raced from my paining eyes
at the startling light of my reflection.
But through the same strength
that survived the darkness
I regained my composure and
raised a determined Black Fist.
The 1968 Uprising
Soon, more CRP students were enrolled than could be accommodated. Moreover, the CRP students felt empowered to ask inconvenient questions. Why did textbooks cost so much? Why weren't there more faculty of color? CRP students began to integrate themselves into campus life. They ran for student government positions and for Homecoming Queen, as well as advocating for additional resources to support CRP. White people on campus—both students and staff—were divided in how they felt.
When Bortolazzo left CSM in early 1968 for unrelated reasons, his successor Robert Ewigleben began backing away from CRP. As the program grew and funds were depleted, Ewigleben had access to funds that would have eased the program's crowding, but chose not to accept them.
In fall 1968, following the assassinations of MLK and Bobby Kennedy, tensions erupted at College of San Mateo. On October 15, 1968, CRP supporters staged a sit-in and chained the doors of the administration building in order to get college leaders to listen to their demands. Although police were called, the protest ended peacefully with Ewigleben promising to support CRP. Instead of support, however, the program's funding was cut.
Tensions escalated on December 13 during a peaceful protest by CRP supporters that was disrupted by counter-protestors screaming racial slurs. This resulted in altercations across campus, broken windows and several injured students and faculty.
Classes resumed the next week under guard of 400 San Francisco tactical-squad officers who checked IDs at campus entries and pointedly held drill outside the CRP offices. On Jan. 6, a firebomb lobbed into the garage of CSM Dean of Instruction Philip Garlington damaged his home but caused no injuries. An FBI investigation concluded no CSM affiliates were involved in the bombing. Yet the college learned to its dismay that FBI informers had infiltrated the College Readiness Program almost since the beginning, combing its equity-based teaching for hints of communism or treason.
In the aftermath, Hoover was given a nonteaching role advising the district on diversity. Wirth was moved out of the program but kept on the payroll provided, she later claimed, "that I was never to be allowed to speak with a Black student."
But expectations had changed, and CRP showed the way.
No turning back
The next year, CSM offered its first Ethnic Studies program. Leaving the district, Jean Wirth went to Washington, D.C. and helped implement Student Special Services, the then-new federal Title IV program that supports disadvantaged learners through programs like CRP. Bob Hoover founded Nairobi College, an Afrocentric private school in East Palo Alto that trained dozens of activists and educational leaders.
Following these departures, CRP students did not give up. They led a hiring committee and helped choose their own counselors and instructors, including Adrian Orozco. Hired in 1969 as a counselor, he later became the director of CRP and spent 33 years at CSM.
In 1969, state Sen. Al Alquist, who represented San Mateo County, wrote legislation that extended a CRP-like program to every community college in California. That program, the Community College Extended Opportunity Programs and Services (EOPS), celebrated its 50th birthday in 2019.
At College of San Mateo, CRP alumni including Ethnic Studies Professor Rudy Ramirez and emeritus counselors Sylvia Aguirre Alberto (Margarita's sister), Kathryn "Kitty" Brown, Aisha Upshaw, Zelte Crawford, Modesta Garcia and countless others continued their work and brought the College Readiness Program philosophy into the 21st century, furthering a legacy of equity and pride. Today at CSM, CRP is now known as the Multicultural & Dream Center while EOPS nurtures more than 400 students with the care and love inspired by Sixties idealists so long ago.