Mohsen Janatpour
Professor of physics and astronomy at CSM
"We were in the parking lot and were looking at the cranes that were bringing the dome to put on the top of the building. ... I was crying. And Shirley [Kelley, then CSM's president] put her hand on my back and said, 'You did it. You got your planetarium.'"
– Mohsen Janatpour
Mohsen Janatpour, longtime professor of physics and astronomy at College of San Mateo, is proud of his role in opening the College's long-awaited astronomical observatory in 2006, along with a new science building that for the first time integrates CSM's science disciplines under one roof.
CSM's Building 36 includes an observatory, where telescopes enable students to observe stars in real life, as well as a planetarium, where celestial bodies and their movements are simulated. This complex hosts CSM's yearly Family Science Day, other outreach programs, and the Integrated Science Center that exemplifies CSM's drive to build equity-forward communities of learning.
Janatpour played a key committee role in the 2004-2005 San Mateo County Community College District bond measures that funded the science building and other new construction to rejuvenate the College Heights campus opened nearly 60 years ago. Born in Tehran, Janatpour completed his education in the United States and joined the CSM faculty in 1979. In 1992, he became director of CSM's planetarium.
"Our science teaching was not very integrated then," Janatpour said. "There were four different science buildings with people doing four different things."
The 1960s-era planetarium was archaic and dilapidated. "I took over something that was very hard to work with," he said. "When I wanted to show phases of the moon, I had to [project light through] toilet-paper rolls."
A planned observatory was never completed. When astronomy instructors wanted to look through telescopes, they had to haul them to a piece of concrete on the lawn.
Janatpour worked to strengthen CSM's ties with the astronomical community and to bring the public to CSM to learn. He carried out CSM's longstanding intent to give the community exposure to astronomy at varying levels—from monthly stargazing to astrophysical research.
On his watch, CSM began to host the monthly meetings of the San Mateo Astronomical Society. In addition to launching Project Jazz Under Stars, in which faculty and local astronomy buffs help the general public look at celestial phenomena, CSM Project Star Gaze broadened its outreach to K–12 students, thousands of whom now visit CSM each year to learn about astronomy.
Still, the lack of facilities hurt.
"We had an observatory dome on top of [Building 19] but had never used it. It was rusting," Janatpour said. "Shirley Kelly was president of CSM at the time. About 2002 or 2003, I went to her and asked, 'Can I get some funding to do something with this?' my plan modified the old planetarium to hold an observatory and pavilion. I presented the idea to the president's advisory committee, then to the Board of Trustees.
"Something very interesting happened. They decided it was a good idea; in particular, board member Karen Schwartz and Chancellor Ron Galatolo were very supportive. They said, 'Why don't we build a new science building altogether?' Shirley asked me to be part of the committee that put the bond measure out. They did targeted advertising. The bond measure passed.
"They gave me free hand in the design of the observatory and the sun plaza on the north side of the building. I really appreciated that. I worked with Astronomy Professor Darryl Stanford and other local astronomers, and we told the builders what we wanted.
"We were in the parking lot looking at the cranes that were bringing the dome to put on top of the new building. That was the biggest experience in my life, right in front of me. I was crying. And Shirley put her hand on my back and said, 'You did it. You got your planetarium.'"
The observatory houses four large reflecting and refracting telescopes including a 20-inch Ritchey-Chretien telescope, equipped with an STL-6303 CCD camera for imaging deep sky objects such as nebulae and galaxies.
"It's completely dedicated to student research and work. The faculty is at their disposal. A key benefit of having the science departments under one roof is that it encourages faculty and student interactions—both within each department and across departments."
Janatpour's students have gone on to work at NASA and SLAC National Accelerator Laboratory (originally named Stanford Linear Accelerator Center). They have taken some of the earliest student photos of supernovas. In 2011, he sent a CSM student to do Mars Institute-sponsored research at the North Pole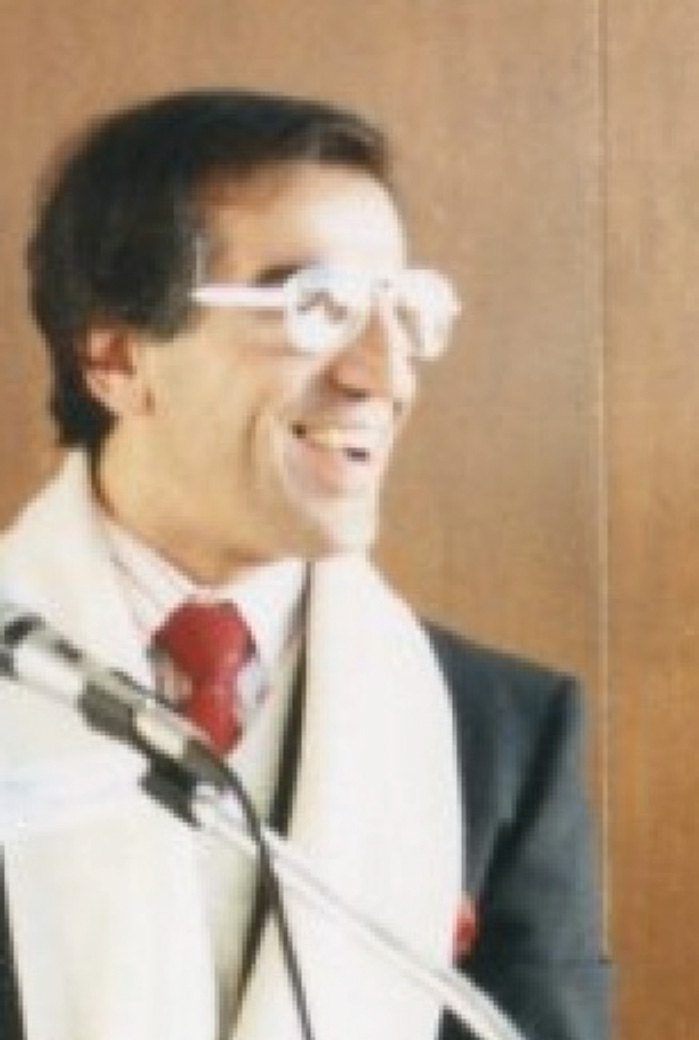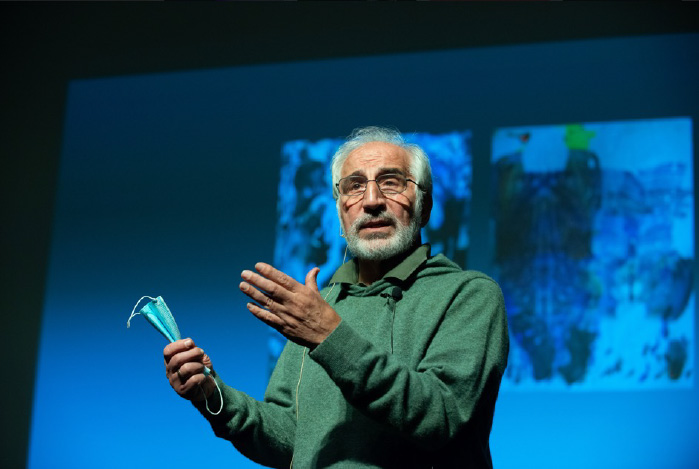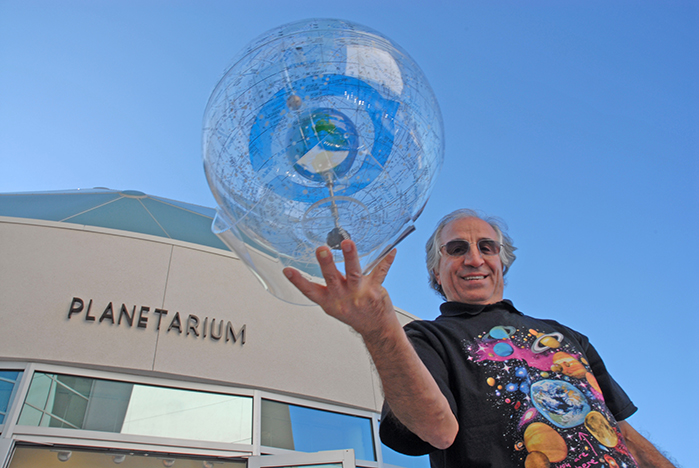 Janatpour at CSM's Building 36, the integrated science building he conceptualized.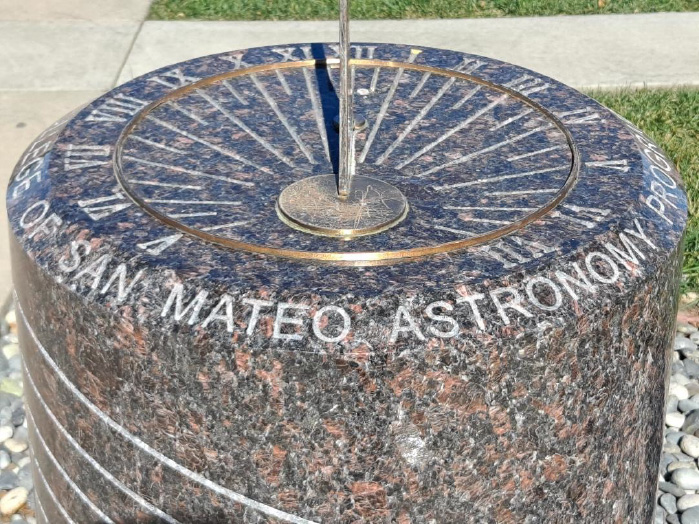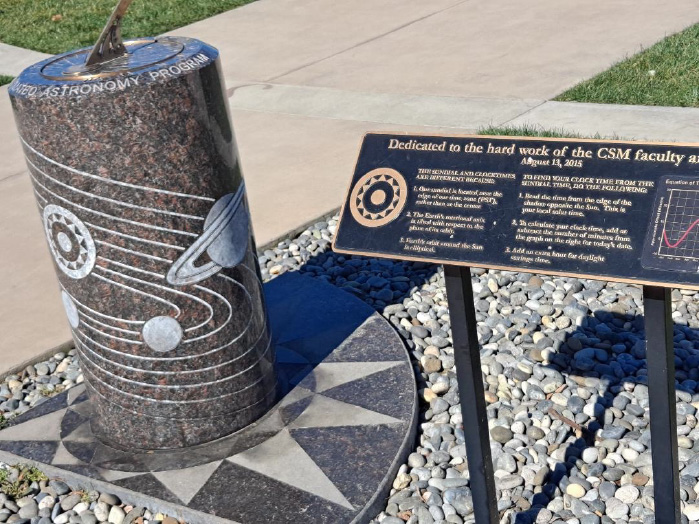 Janatpour's sundial, installed Sept 17, 2015 with CSM President Mike Claire presiding. Photo: Barbara Wilcox
Janatpour's physics lab is just meters from the Integrated Science Center, a well-equipped space for tutoring and equipment, and a place for math and science students to hang out, eat lunch and feel comfortable together. Janatpour himself has been known to open the ISC for students who need to take 8 am exams there.
CSM's Math & Science Division office, just upstairs, displays many of the paintings he has made over the years. A multitalented visual artist, Janatpour also designed the sundial that sits in the sun plaza outside the science building, facing a stunning view of San Francisco Bay.