Observatory
Come stargaze with us at Jazz Under the Stars, our (near) monthly FREE public stargazing event!

CSM Announces AOOC
-
Astroimaging & Observatory Operation Certificate
Statement of Purpose and Goals:
Our astronomical communities are in need of technicians who can operate observatories equipped with very sophisticated imaging instruments. Therefore, there is a need for individuals specifically trained to operate modern-day observatories.
The purpose of the Astroimaging and Observatory Operation Certificate (AOOC) is to provide students with theory and experience, enabling them to operate complex astronomical equipment. AOOC accomplishes this through training on the operation of various telescopes, such as the 20" Ritchey-Chretien and the TEC140 refractor, and techniques of celestial observation. AOOC is designed to introduce students to the underlying principles of different imaging techniques during hands-on training sessions with different imaging instruments. Imaging techniques include spectroscopy, photometry, and astrophotography.
Cameras for Allsky Meteor Surveillance (CAMS)
In connection with
Peter Jenniskens
, Senior Research Scientist at
SETI Institute
, our observatory's
CAMS
video camera captured the bright fireball over the Bay Area on the local evening of 10-17-12.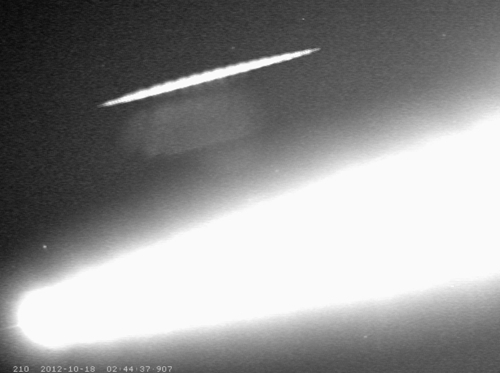 The
looping video
shows the Oct. 17 fireball, with a field of view ~28 degrees. Special thanks to Dave Samuels in processing/managing CAMS data. See the latest
CAMS update
.
We image nightly with a single, Watec 902 H2 Ultimate video camera, producing a 26.8 x 22.1 degree FOV centered on Azim (deg) 263.205, Elev (deg) 47.283. Processed data is available for student analysis, and sent to Dr. Jenniskens. Check out this
sample video of the Quadrantids
meteor shower taken January 4, 2012.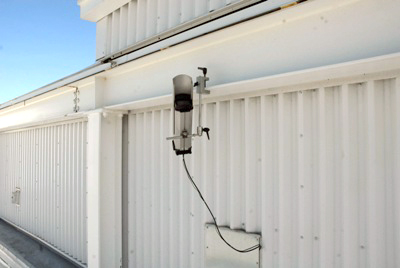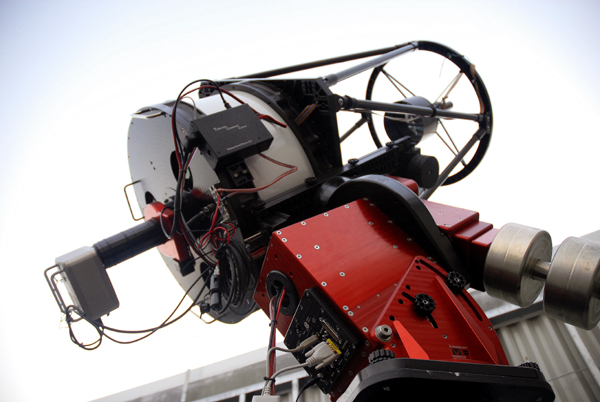 20" RC Telescope
Our 20" Ritchey-Chretien telescope from
RC Optical Systems
delivers quality images of the night sky. The RC sits atop a
Paramount ME
mount for location and tracking of distant objects. Attached is an SBIG STL-6303 CCD camera for imaging deep sky objects and measuring stellar magnitudes. A 500mm Borg refractor rides "piggyback" on the 20."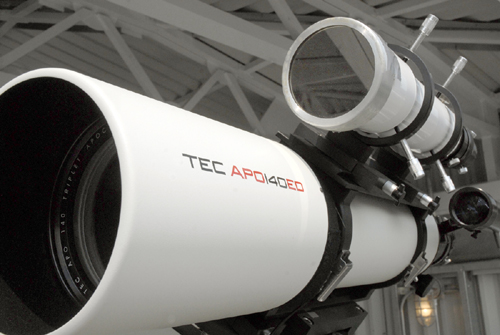 140mm TEC Refractor

Students and visitors enjoy superb views through our refractor. The
TEC
yields the best planetary views in the observatory. Visitors to
"Jazz Under The Stars"
also enjoy close-ups of lunar craters and mountains.
The Observatory

Our observatory is of the roll-off roof design. Therefore, it does not look like the typical domed observatory. An advantage of this design, is that more telescopes can be used simultaneously. In addition, the observatory can quickly reach thermal equilibrium. This results in steadier views through our telescopes.
Partial list of additional equipment

2 Meade 8" SCT
1 8" Celestron Orange SCT1 Meade 10" SCT1 4" Unitron refractor
1 14" Celestron SCT (
SMCAS
scope)
1 12" Astrola Newtonian reflector
6 8" Orion XT Intelliscope dobsonian
1 10" Orion XT Intelliscope dobs
1 4" Clark refractor built in 1876
The dobs are used in the ASTR 103 observational lab, as well as for public star parties. The Meade 8" SCT is used primarily for the SGS spectrograph and the TEC refractor for imaging and
photometry
. The only scopes not actively used are the Clark and Unitron refractors (The Unitron needs some updated equipment while the Clark is our museum piece, located in the planetarium).

Other equipment
3 Pier-Tech 3 piers
2 HGM Titan mounts with Gemini Goto system
2 SBIG ST-7E CCD cameras w/various filters
1 SBIG SGS spectrograph
1 Losmandy G-11 mount with Gemini L4