Observatory
Jazz Under the Stars
Jazz Under the Stars
is a
FREE
monthly public stargazing event! Occurring on the Saturday nearest the 1
st
quarter moon (check our
Events Page
), join us on the 4
th
floor observatory for a night of smooth jazz, bright stars, and a lot of fun! We play our jazz from CSM's own
KCSM 91.1
. Founded in 1964, KCSM has grown to become one of the top 35 most listened to non-commercial stations in the US. With their help, the Astronomy department at CSM opens its observatory doors and balcony, for a night of science and fun! We operate for public viewing four 8" dobsonian telescopes, prefect for viewing the planets Venus, Mars, Jupiter and Saturn. We also have a 140mm refractor, with which we view the craters on the moon. Finally, our 8' schmidt-cassegrain is for our deep sky needs. It can peer deep into globular clusters, and nebulae! Our astronomers will also be available for questions and conversation, which you wouldn't get anywhere else! Feel free to ask us your
questions about the cosmos. Occasionally we even have the chance to image galaxies! Don't miss out, join us at our next
Jazz Under the Stars!!
Fall 2023 Schedule
Date

_________

Time
August 26
8:30-10:30pm
September 23
8:00-10:00pm
September 30
TBD (Family Science Day)
October 21
7:00-9:00pm
November 18
5:45-7:45pm
Dress warmly.
Free parking in Lots N, P, Q, R, and S

during astronomy events.
Directions are available on the Maps, Directions & Parking page.
This event is weather dependent. If it is cloudy we will not open. Latest weather updates.
No food or drinks in the Observatory.
Children are welcome and must be attended at all times.
The west elevator (Closest to Marie Curie parking lot) is the only access point to the observatory!
Email
questions.
Listen to and support great
jazz on KCSM
.
Supported by
San Mateo County Astronomical Society
,
KCSM
Jazz 91.1FM, and
CSM Astronomy
.
Also see
SMCAS star parties at Crestview Park
.
Cameras for Allsky Meteor Surveillance (CAMS) - A SETI Project
CAMS
, a SETI project, is an automated video surveillance of the night sky to validate the International Astronomical Union's working list of meteor showers. It's mission is to discover previously unknown meteor showers and to triangulate and locate meteorites. CAMS was founded in 2010, but established at CSM in 2012 in connection with
Peter Jenniskens
, Senior Research Scientist at the
SETI Institute
. CAMS has over 80 camera's in the Greater San Francisco Bay Area, and over 260 cameras worldwide. This mission has led to the
discovery of over 60 new meteor showers
including
Delta Mensids
,
February epsilon Virginids
, and
R Lyrids
.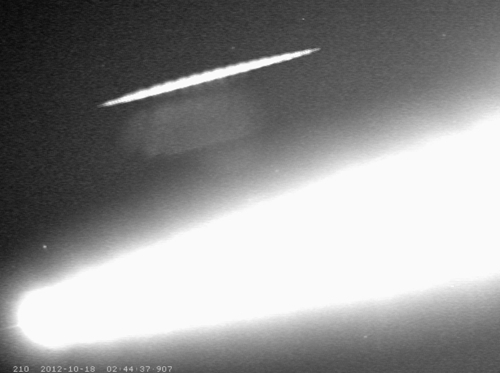 Our observatory's CAMS video camera captured a bright fireball over the Bay Area on the local evening of 10-17-12. This
looping video
shows the Oct. 17 fireball, with a field of view ~28 degrees. Six meteorites were discovered from triangulating data from CSM and Santa Rosa. All six meteorites were found in the town of Novato, located about 45mins north of San Francisco. These meteorites were discovered to have a previously unknown class of metal-organic compounds known as
dihydroxymagnesium carboxylates
. Link to
SETI article
. Special thanks to
Dave Samuels
in processing/managing CAMS data. See the latest
CAMS update
.
We image nightly with a single, Watec 902 H2 Ultimate video camera, producing a 26.8 x 22.1 degree FOV centered on Azim (deg) 263.205, Elev (deg) 47.283. Processed data is available for student analysis, and sent to Dr. Jenniskens. Check out this
sample video of the Quadrantids
meteor shower taken January 4, 2012.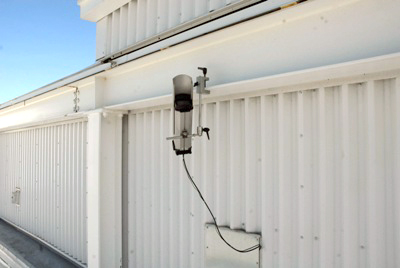 The Observatory
Our observatory at CSM has quite a unique design! Unlike the usual dome shaped observatories, our "roll-off" roof looks like a regular roof, but with the flip of a switch, retracts so that the entire surface area of its floor is exposed to the outside. The advantage of this design, is that more telescopes can be used simultaneously, and the observatory can quickly reach thermal equilibrium. This results in steadier views through our telescopes. Our observatory currently has five permanently mounted telescopes, and 14 mobile telescopes. Here are some of our favorites: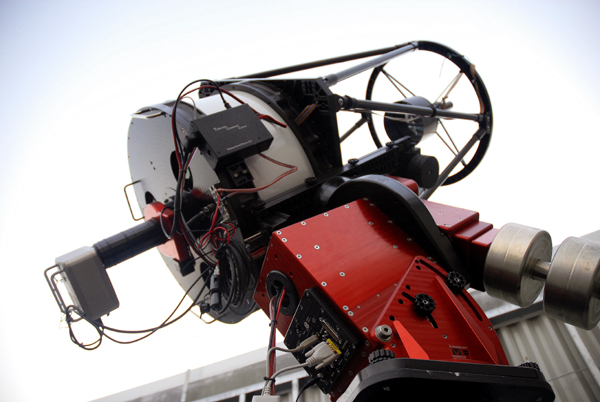 20" RC Telescope
General Information:
Reflector Telescope
Aperture: f/8
Field of View: 15.6x23.4 arcmins
SBIG STL-6303 CCD
Chip Size: 18.4x27.6 mm
Pixel Size: 9u x 9u
Our 20" Ritchey-Chretien telescope from
RC Optical Systems
delivers quality images of the night sky. The RC sits atop a
Paramount ME
mount for location and tracking of distant objects. Attached is an SBIG STL-6303 CCD camera for imaging deep sky objects and measuring stellar magnitudes. A 500mm Borg refractor rides "piggyback" on the 20."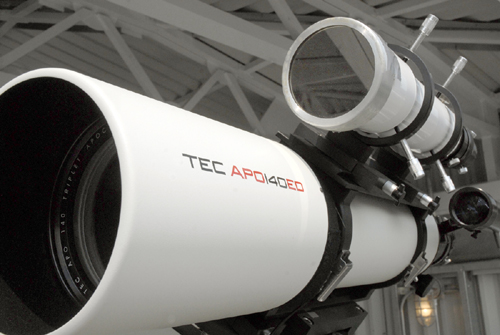 140mm TEC Refractor
General Information:
Refractor Telescope
Focal Length: 980mm
Field of View: 35.1x52 arcmins
SBIG ST-10E CCD
Chip Size: 10x14.9 mm
Pixel Size: 6.8u x 6.8u
Losmandy Titan mount / Gemini controlled
Students and visitors enjoy superb views through our 140mm
TEC
refractor. Refractors like this are great for viewing planets, comets, and other solar objects. Visitors to
"Jazz Under The Stars"
can also enjoy close-ups of lunar craters and mountains.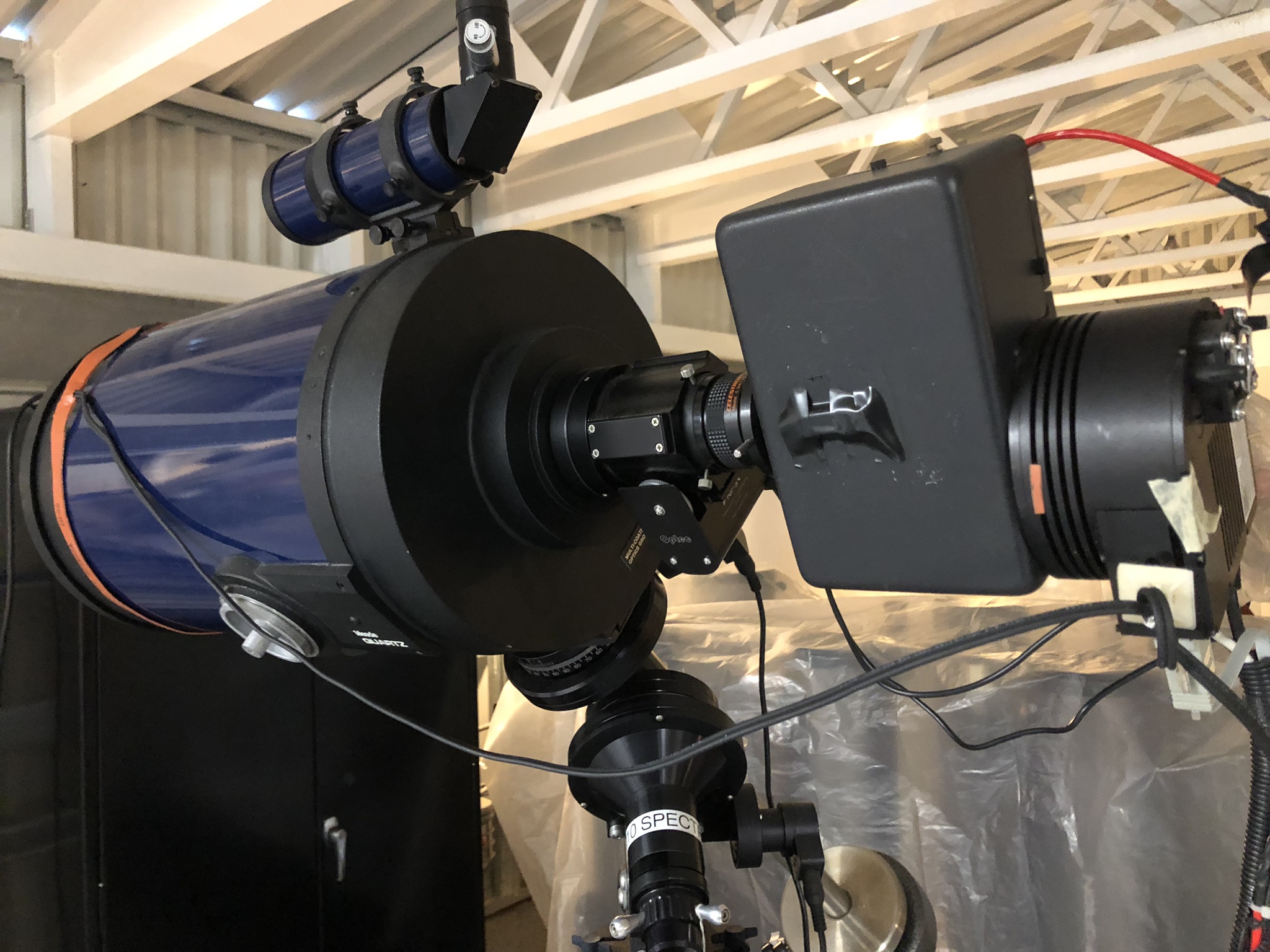 10" Spectrascope
General Information:
Schmidt–Cassegrain Telescope
Focal Length: 2000mm
Focal Ratio: f/10
Field of View: 11.9 x 7.9 arcmins
SBIG ST-7XME-S CCD
Chip Size: 6.9x4.6 mm
Pixel Size: 9u x 9u
Losmandy Titan mount / Gemini controlled

If you're looking for real science, our spectrascope will be your favorite! It's special camera takes light from different stars and separates them into their component wavelengths, showing us various peaks. These peaks correspond to specific warelengths that help us to identify different elements, allowing us to "look inside" a star! With this amazing equipment we can calculate radial velocities, doppler shifts, and and what type of start we're observing.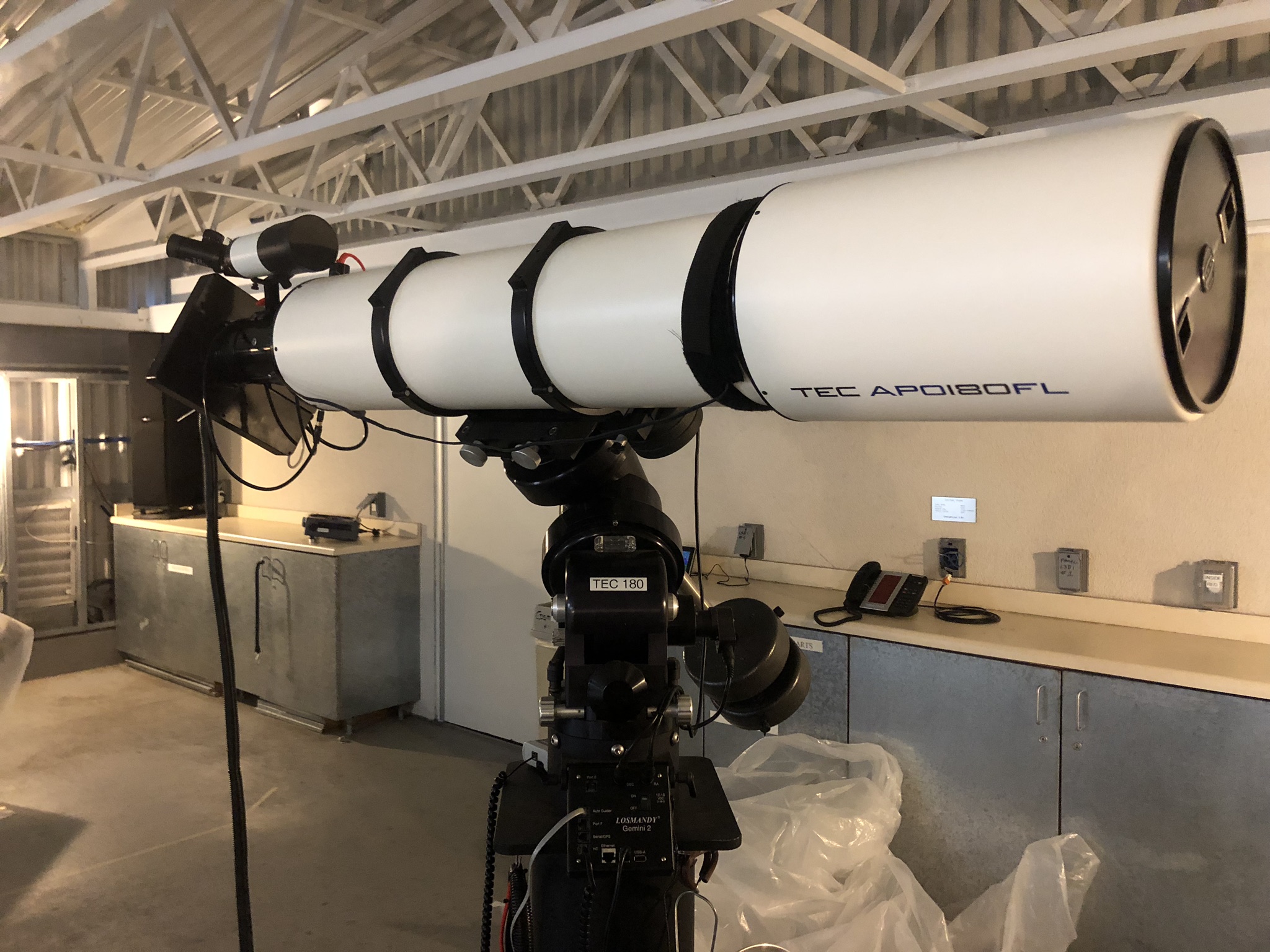 180mm TEC Refractor
General Information:
Refractor Telescope
Focal Length: 1260mm
Field of View: 50.2x75.3 arcmins
SBIG STXL-6303 CCD
Chip Size: 18.4x27.6 mm
Pixel Size: 9u x 9u
Losmandy Titan mount / Gemini controlled
Large galaxies like the Andromeda galaxy, are often too large spatially in the sky, for our more sensitive telescopes to get a full picture of. This is where out 180mm
TEC
refractor comes in. It has an extremely large field of view, allowing us to image almost the entirely of Andromeda as well as other many large objects!