Planetarium
"The Sky Tonight" Planetarium Show
During the regular Fall/Spring/Summer Semesters, Professor Stanford presents the night sky on second Fridays of every month, with
two
shows: 7:30 & 8:30 pm in the CSM Planetarium. See
Event Calendar
for specific dates.
Free tickets
are available on a first come basis, for
7:30 & 8:30
shows. 95 seats per show. Children 5 years and older please. No reservations, holding seats, food, or drinks in the planetarium.
Arrive early for the first show, which is usually full.
Shows begin on time, and doors are locked during the show. No late entry.
Summer 2019 Schedule
| Date | Title |
| --- | --- |
| June 14 | Moons: Worlds of Mystery |
| July 12 | Secret Lives of Stars |
| August 9 | Phantom of the Universe |
SMCAS General Meeting and Guest Speaker
San Mateo County Astronomical Society holds their monthly meeting in CSM planetarium on first Fridays of every month, beginning at 7 pm. The general public is invited to this FREE event. For more information call Ed Pieret at (650) 862-9602 or visit the SMCAS website.

For these Friday night events (The Sky Tonight and SMCAS meetings/speakers), parking is free in Lots 5 (Marie Curie) and Lot 6 (Galileo). No parking pass necessary.
Planetarium System
We have upgraded our planetarium! Our new 4k resolution digital projectors and GOTO CHRONOS II star projector have been installed and we are excited to show you what they can do! Come and see!
Project Star Gaze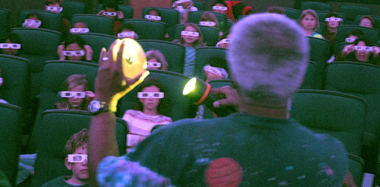 We're proud to continue our popular "Project Star Gaze" program for kids and teachers, in the planetarium. These shows give school children an exciting introduction to astronomy. Designed primarily for kindergarten through 5th graders, "Project Star Gaze" at CSM, offers children and their teachers experience with real science during free field trips to the planetarium. Our astronomy faculty tailor the workshops to each age group. CSM's planetarium has served thousands of students and visitors since 1963.
Our facility is equipped with dual JVC 4K projectors and GOTO Chronos II opto-mechanical space simulator. The planetarium seats 95 visitors. "Project Star Gaze provides an exciting venue for students to be introduced to scientific methodology and its application to everyday life. Each session includes a planetarium star show, plus demonstrations of solar system basics and spectroscopy.
Recent studies recommend that elementary school children be exposed to dynamic, hands-on experiences with science. Early in their education, they need an understanding of the interdisciplinary nature of science and the scientific method. This program also exposes elementary school children to a college environment, helping to encourage lifelong learning and kindle an early interest in pursuing higher education. "Project Star Gaze" also represents CSM's commitment to its community. Partners providing a variety of critial project resources include: The San Mateo County
Community College Foundation
, and the
San Mateo County Astronomical Society
, which meets monthly in the planetarium.
To schedule a free field trip, contact Professor Mohsen Janatpour at
janatpour@smccd.edu
or call (650) 574-6272.