Overview
Schedule of Classes
The Schedule of Classes is available in several formats:
WebSchedule
WebSchedule provides the most up-to-date course offering information!
This is your real-time resource for planning your schedule, featuring quick summaries of open classes, new classes, and short classes.
Short Term Classes List
Need extra units? Want to reach your education goals more quickly?
Check out the flexible options in the Short Term Classes List.

Newsprint PDF Version

Schedule Archive
The
Schedule Archive
includes PDF versions current and past schedules.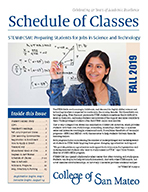 Catalog
2019-2020 Catalog
The
2019-2020 Catalog
is published exclusively online. There is no printed catalog, though you will find printable PDFs on the site (please take care to conserve paper).
Publishing online gives several advantages. The CSM catalog is now:
Fully searchable
Accessible
Mobile-friendly
Catalog Archive
The
Catalog Archive
includes an archive of past catalogs as well as a PDF version of the current, catalog-rights version of the catalog.