CSM Library Makerspace
3-D printing, tools for loan and a helpful staff encourage all to tinker, create, innovate, and learn
Learning at College of San Mateo doesn't happen just through reading, writing and seeing media and lectures. It also takes place kinesthetically, through the process of making.
CSM Library's Makerspace fulfills the college's mission to be a holistic source of all kinds of intellectual and social learning, including the learning that comes from hands-on tinkering, innovation and creation. By making things, students gain skill in problem-solving through experimentation and play.
Located at the south end of the library's main floor, Makerspace offers 3-D printing, laser cutting, engraving and crafts equipment. It offers a tool lending library to staff and students, thanks to generous support from the CSM President's Office and a Pacific Library Partnership Innovation Grant. Staff supervision and regularly scheduled workshops offer help with the devices. Students make objects of wood, paper, fiber and plastic – ranging from class projects to jewelry to Dia de los Muertos altars.
The space's staff and equipment also feature in CSM community outreach events including Family Science Day, drawing thousands of people to campus to experience the joy of learning and human creativity.
Makerspace opened in 2013 as the inspiration of former CSM Library Director Lorrita Ford, who envisioned a place where students can "come and discover their inner engineer that they may have not known existed." Ford (1949-2021) gathered support and advice from faculty in departments across campus. In turn, the faculty uses Makerspace for class projects, ranging from 3D-printed models of the cervical spine for anatomy class to soda-straw buildings for architecture class.
Equally importantly, members of the CSM community can relax and interact informally over projects such as knitting or jewelry making. Students teach workshops to faculty and vice versa.
"They come here and they share that with other people, and then they talk and get to know each other at a different level," Ford told KQED in 2016.
Now the purview of current Director of Learning Commons Elnora Tayag and Reference & Instruction Librarian Teresa Morris, Makerspace continues its mission of helping make the CSM Library an intellectual and creative hub on campus.
It opened in its present library space in November 2019 after an 18-month buildout. Only a few months later, the long-awaited dedicated space was closed to the public during the COVID-19 lockdown. Making did not cease, however. Adjunct librarian Jason Yap and others 3D-printed free face shields for essential workers as well as items for essential college functions.
Morris expands ways to incorporate making into CSM community life. She began the library's knitting project, which offers free yarn and lends needles so people to knit or crochet warm hats for folks who need them. She facilitates maker events in library spaces, such as jewelry and bookmark-making workshops to celebrate National Library Week.
In 2022, the space returned to operation.
Watch time-lapse video of the 18-month Makerspace build.
Watch a quick guide to Makerspace tools and facilities.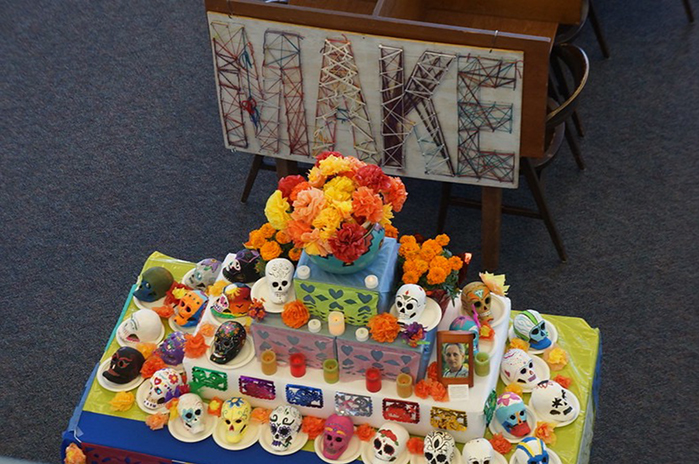 A Makerspace Dia de los Muertos altar memorializes longtime CSM Communications Professor George Kramm, who died in 2015 of injuries sustained in a mountain-biking accident. His students and friends decorated the calaveras. CSM Library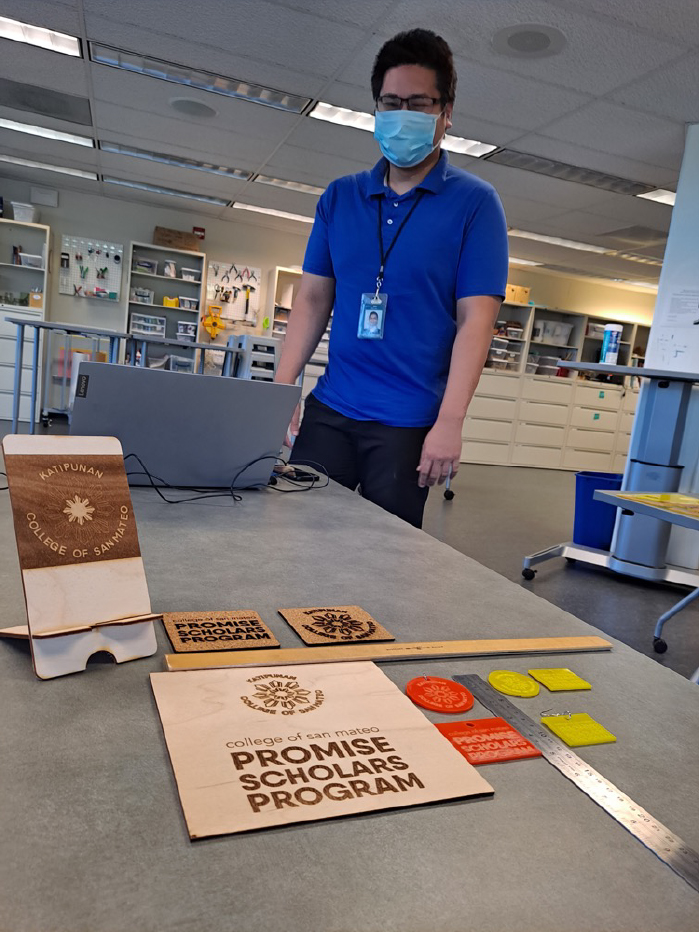 CSM library staffer Jason Yap shows off student Makerspace projects in May 2021. Photo: Barbara Wilcox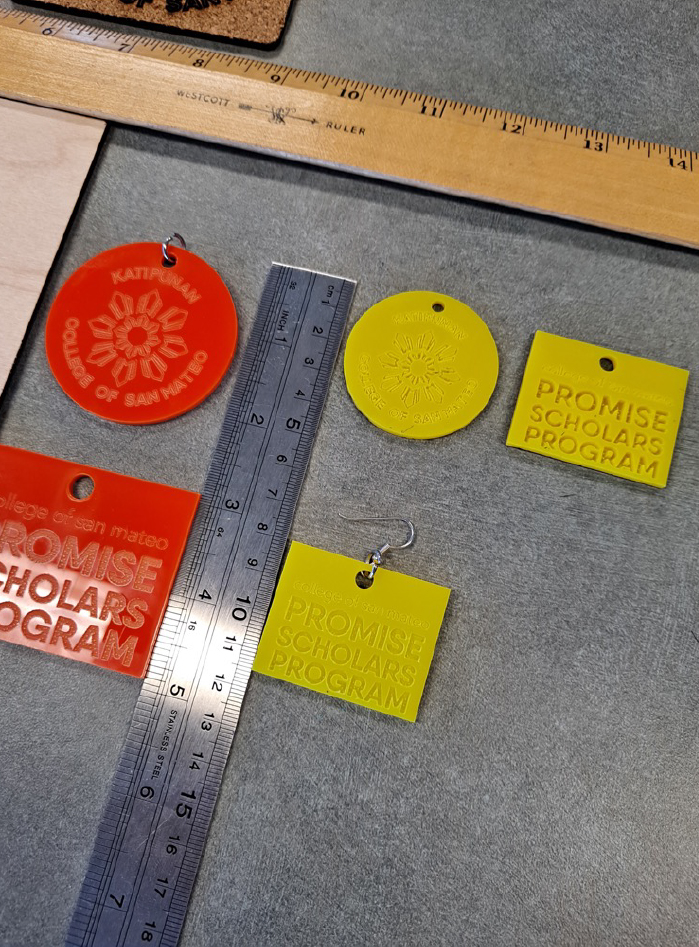 Members of CSM's
Promise Scholars
, a holistic support program that offers counseling and other aid, and Katipunan, CSM's Filipinx club and community, proclaimed their pride in 2021 by making earrings. Photo: Barbara Wilcox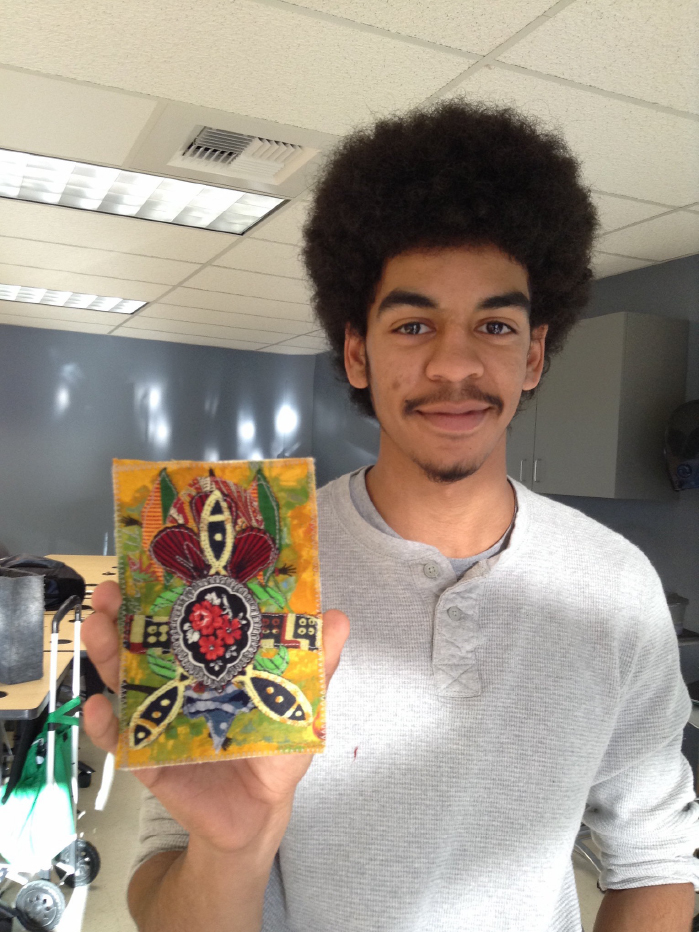 A student displays his handiwork from 2016's Stitch Africa quilt workshop. Photo: CSM Library