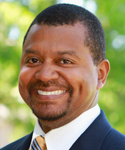 Frederick Gaines
Title:
Professor, Chair of Ethnic Studies
Degrees:
B.A., psychology, M.A., ethnic studies, Ed.D., educational leadership
Teaching Experience:
I was a principal for five years at Walden Academy and Education, educational coordinator at Samaritan House, coordinator of the Urban Institutes' Stay In School Family Resource Center and executive director for Aspire, a college prep after school program in North Central San Mateo. While working in leadership in the non-profit sector, I accumulated 10 years of adjunct teaching experience at various community colleges in the Bay Area before I became a full-time instructor at College of San Mateo in 2007.

Career Highlights:
Watching students cross the stage at commencement as they move on to the university or to a career — empowered, confident and prepared to pursue their passions and dreams.
Hobbies:
I enjoy acting, directing, conducting research on African-American male students and student-athletes in community colleges and community college student athletes in general.
Quote:
"Darkness cannot drive out darkness; only light can do that. Hate cannot drive out hate; only love can do that." – Martin Luther King, Jr.