Overview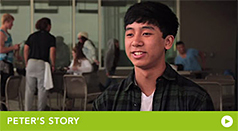 Step Forward: Priority Registration
Learn how the priority registration process helped these Community College students focus on their priorities and get on the right track to completing their education.
PEP and Super Saturday are now closed for 2018.Please complete the following steps to become a CSM student:
Email the Alternate Assessment form to the address on the form along with scans of high school transcripts
Sign up for an in-person Student Orientation or complete the Online Orientation via WebSMART
Call (650) 574-6400 to make an appointment to meet with a counselor
After completing ALL these steps, you will receive a registration date via your WebSMART account and you will be able to register for classes.

Be sure to read your student email -- you@my.smccd.edu.
You can find your email address in your WebSMART account.

Pay all fees by the deadline.


College of San Mateo's
Disability Resource Center
(DRC) offers support services and accommodations to students with documented physical, psychological and specific learning disabilities. Please contact the DRC for more information.