Overview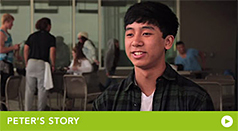 Step Forward: Priority Registration
Learn how the priority registration process helped these Community College students focus on their priorities and get on the right track to completing their education.
College of San Mateo's Priority Enrollment Program (PEP) offers the most effective and timely way to complete the Path to Enrollment for students who plan to attend CSM.
PEP registration will begin mid-January -- Stay tuned!The Path to Enrollment consist of the following:
Apply for admission (Do it now and be ready for PEP!)
Complete assessment for English and math
Complete College Orientation
Meet with a counselor
Registration and payment of fees
Activate student email -- you@my.smccd.edu
Through PEP, incoming CSM students will have priority enrollment, early access to our
Year One
program, and early connection with Transfer Services.
PEP events will be held beginning March 2017, allowing students to complete English and math assessment and the College Orientation on the same day as well as touring the campus and meeting some CSM students.
At the conclusion of each PEP day, students will schedule an appointment to return and meet with a CSM counselor to create a Student Educational Plan (SEP). PEP students will receive a May priority registration date which allows them to enroll in Summer and Fall 2017 classes.
Super Saturday

Super Saturday
allows you to complete the steps to become a student at CSM in one day!! The next Super Saturday will be held in Spring 2017.