Overview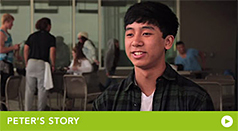 Step Forward: Priority Registration
Learn how the priority registration process helped these Community College students focus on their priorities and get on the right track to completing their education.
College of San Mateo's Priority Enrollment Program (PEP) offers the most effective and timely way for new students to complete the Path to Enrollment and be ready to attend CSM!
College of San Mateo's Disability Resource Center (DRC) offers support services and accommodations to students with documented physical, psychological and specific learning disabilities.

Please contact the DRC for more information.