Overview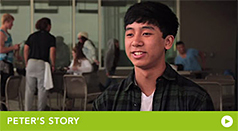 Step Forward: Priority Registration
Learn how the priority registration process helped these Community College students focus on their priorities and get on the right track to completing their education.
College of San Mateo's Priority Enrollment Program (PEP) offers the most effective and timely way to complete the Path to Enrollment and be ready to attend CSM
We will open registration for April 10th, 20th, 24th later
The Path to Enrollment consists of the following:
Apply for admission (Do it now and be ready for PEP!)
Complete math and English assessment
Complete College Orientation
Meet with a counselor
Registration and payment of fees
Access your student email -- you@my.smccd.edu
During you PEP day, you will:
complete an English and math assessment and access your my.smccd.edu email
attend your College Orientation to provide you with information about registration procedures, degrees and majors, university transfer, and services available to you
take a tour to introduce you to important locations on our beautiful campus
schedule a counseling appointment to meet with a CSM counselor to discuss your major or how to choose a major, courses for your first semester and you will create your first Student Educational Plan (SEP)
PEP students will have priority enrollment, early access to our
Year One
program, and early connection with
Transfer Services
,
Financial Aid
, and other
Student Services
.
College of San Mateo's
Disability Resource Center
(DRC) offers support services and accommodations to students with documented physical, psychological and specific learning disabilities. Please contact the DRC for more information.
PEP events will be held beginning March 2017, allowing students to complete English and math assessment and the College Orientation on the same day as well as touring the campus and meeting some CSM students.
After meeting with a CSM counselor to create a Student Educational Plan (SEP)
, PEP students will receive a May priority registration date which allows them to enroll in Summer and Fall 2017 classes.