Archives - Open by Appointment Only
Mission
The mission of the College of San Mateo Archives is to document and preserve the institutional history of the College of San Mateo and the San Mateo County Community College District.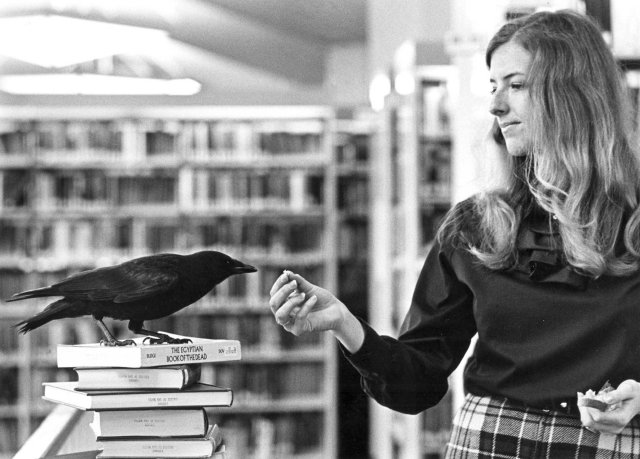 Clovis the Crow in Library, (1970s or 1980s).

Description of the Collection
Records in the Archives include, but are not limited to, the following:
College catalogs, class schedules, commencement programs, student newspapers, yearbooks, etc.
Official documents and reports of the College of San Mateo
Faculty and student publications
Historical photographs of College of San Mateo, Cañada, Skyline and the District Office (also available online)
Minutes and papers of the San Mateo County Community College District Board of Trustees
It is important to note that the collection is incomplete. For some years there are no items available.

Access to the Archives Collection
Students, faculty, administrators, staff and community members are welcome to view items in the archives collection by appointment. Visit our appointments page to see available dates and times.
An index of materials held in the archives is located in the Special Collections Binder which is located at the Library Reference Desk.

Archival materials are for "Library Use Only." Items from the collection may be photographed or photocopied by arrangement with library staff.
In order to protect the materials, patrons are required to use pencils when taking notes.
Other Campus Collections
If you are looking for CSM schedules and catalogs from previous years, Academic Services provides digital access: