Student Ambassadors
Student Ambassadors are CSM students who represent the College at local high schools, in the community, and on campus. They are a vital component of the College's outreach, recruitment, and retention efforts.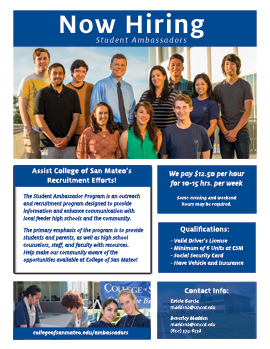 Students reaching out to students
CSM has mobilized a team of talented students to participate in the College's Student Ambassador Program. Since 2007, the program has become a vital component of the College's outreach efforts.
Student ambassadors serve as liaisons between the College and local high schools, give campus tours and assist with on campus activities such as Operation Welcome Mat and Connect to College; they also represent the College at community events.
This semester's Student Ambassadors are Rupinder Bajwa, Patrick Fisher, Ayah Hamdan, Andrea Icaza, Divi Kumar, Peter Pitetta, Sean Pounder, Nikki Uchi-Tabaloc, Elliot Tam, and Jackie Vara.
Become an Ambassador
CSM is looking for current students to assist with College of San Mateo's outreach and recruitment efforts on campus, at local feeder high schools, and in the community.
To apply for a position, please read the
job description
and send your resume and cover letter to
csmoutreach@smccd.edu
. Information for jobs on and off campus can be found on
CSM JobLinks
.