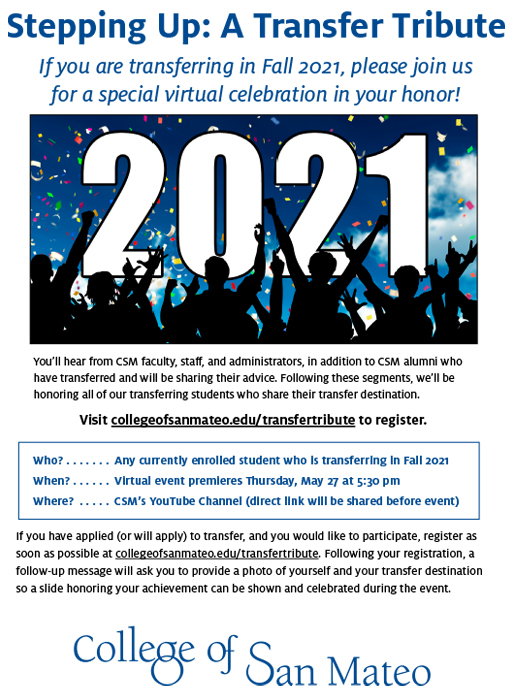 Transfer Club

Location: Virtual Meetings (Fall 2021)! Next Meeting: Wednesday, September 1, 2021 @ 12:10pm!
Topic: TBD: To be Determined

Virtual Zoom Link: 1st & 3rd Wednesday
https://smccd.zoom.us/j/95157341533
Email: csmtransferclubcontact@gmail.com

Meetings are the 1st & 3rd Wednesdays of the month @ 12:10pm during the Fall and Spring semesters.

Network with fellow CSM students about how to transfer to your desired college/university
Gain leadership experience for your application and academic resume
Meet with various college/university representatives
Get mentored by your CSM peers in desired major.
Participate in transfer related activities and workshops
Organize & plan university campus tours
Coordinate campus club activities and events
Gain a competitive edge in understanding the transfer process
Past Transfer Club Meeting Recordings/Presentations

2020 - 2021 Transfer Club Meetings:

09/30 Meeting - UC Application Background
09_30 TC Meeting Edit (5).mp410/14 Meeting - UC PIQs Process/Tips
PIQ.mp4
10/21 Meeting - How To Be A More Competitive Transfer Applicant (Community College Specific)
Transfer Club 10:21 Meeting Edit.mp4


11/4 Meeting - How to fill out the CSU Application and learn about ADT Degrees and CSU General Education


CSU Presentation.pdf
11/18 Meeting - How students can adjust to online classes + Student tip/study tips for online classes
12/2 Meeting - Topics for Spring 2021 Semester and last minute questions regarding UC & CSU Applications and Personal Insight Questions

2/3 Meeting - Applying For Scholarships
zoom_0.mp4

3/3 Meeting - What Students can do in Summer to stay "Transfer Ready"

GMT20210303-200904_Transfer-C_as_1440x900.mp4


3/10 Meeting - Things to be Aware of (Plan) prior to transferring

zoom_0 copy.mp4
Transfer Club Officers 2021-2022