Who's Eligible?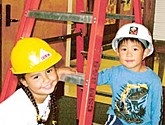 Enrollment preference is afforded to low-income student-parents who meet the eligibility criteria set by the California Department of Education, Child Development Division. Eligibility for subsidized child care is determined on the basis of a family's need and their gross monthly income in relation to family size. Fees for subsidized child care are based on a sliding scale.
Student-parents who do not qualify for subsidized child care, as well as College of San Mateo staff and faculty, may also enroll and pay a full tuition fee as space is available.
To be eligible, parents must be enrolled in classes at CSM.
Our program does not discriminate on the basis of age, sex, sexual orientation, gender, ethnic group identification, race, ancestry, national origin, religion, color, or mental or physical disability in determining which children are served.
The program welcomes children with disabilities and operates in accordance with the requirements of the Americans with Disabilities Act to make reasonable accommodations for children.
For information about CSM, including how to apply and register, please visit
collegeofsanmateo.edu
.