Student Projects




Students Peter Roomian, Ali Emami, and CSM technician Dean Drumheller
-CSM observatory control room. - Image: Alex Chassy

M16 Eagle Nebula
M16 lies 7,000 ly away in the constellation Serpens, and is most famous for its Pillars of Creation region. Student Steve Byers created this image from 10, 300 second exposures taken 10-17-13 through our 20" RC telescope.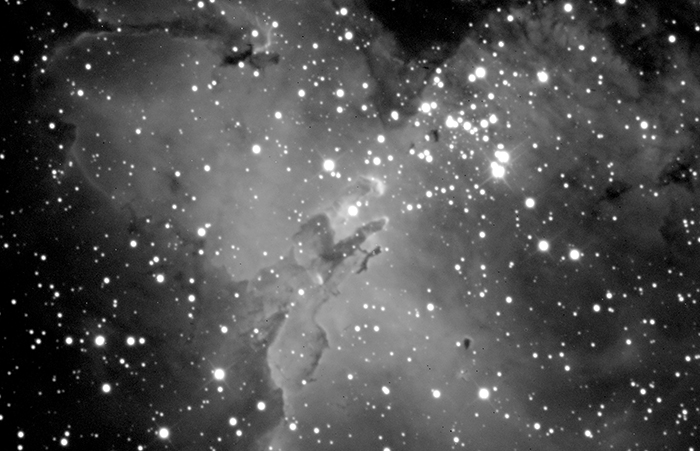 M16 Eagle Nebula Steve Byers, CSM Observatory

M13
Globular star cluster M13 lies 25,000 ly away in the constellation Hercules, contains ~400,000 stars, and is 145 ly across. Student Ali Emami combined 28 one-minute exposures taken thru our 20" RC telescope 9-26-13, to create this image.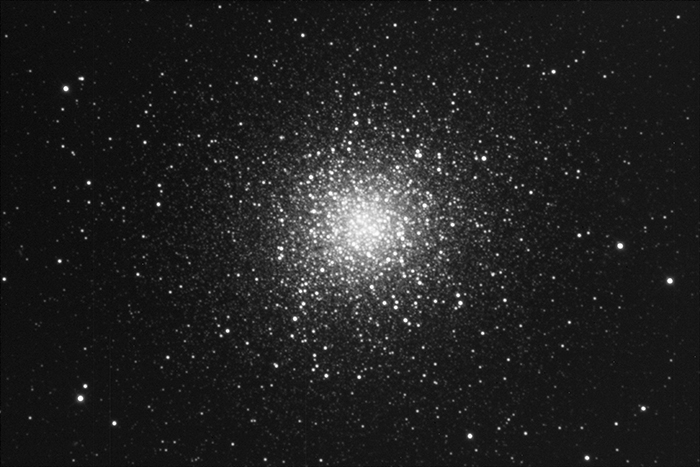 Globular cluster M13 Student Ali Emami, CSM Observatory

Veil Nebula
This small section (15.6 x 23.4 arcmin) of the Eastern Veil Nebula was imaged on 11-5-13 by Special Projects student Alex Chassy. The Veil lies ~1,400 ly away in the constellation Cygnus. Fifteen, 300 second exposures taken with our 20" RC and SBIG ST6303 camera, were combined to create this detailed image.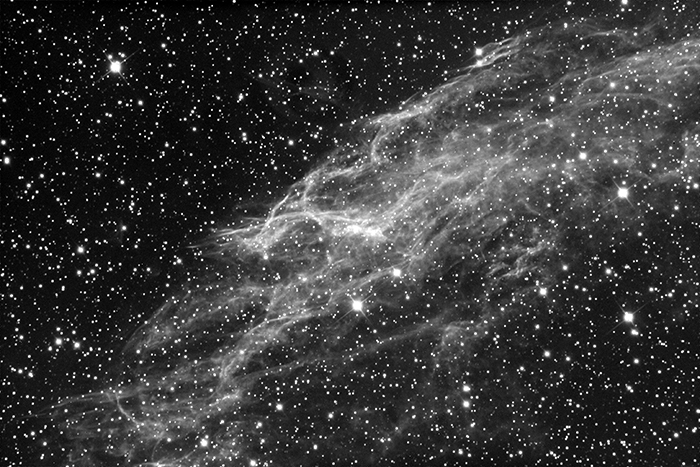 Veil Nebula Student Alex Chassy, CSM Observatory


Comet ISON
This image of much anticipated Comet ISON, was taken with our 140mm refractor just before dawn, 11-16-13. ISON disintegrated as a result of it's Thanksgiving day encounter with the sun. Additional ISON information and updates.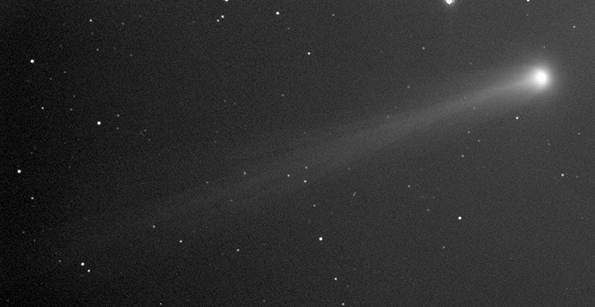 Comet ISON -Dean Drumheller CSM Observatory

Pelican Nebula
The Pelican Nebula lies 1,800 ly away in the constellation Cygnus. Student Steve Byers combined 20, five minute images taken thru our AP130 refractor, for this image. Image processing with CCDStack and Photoshop.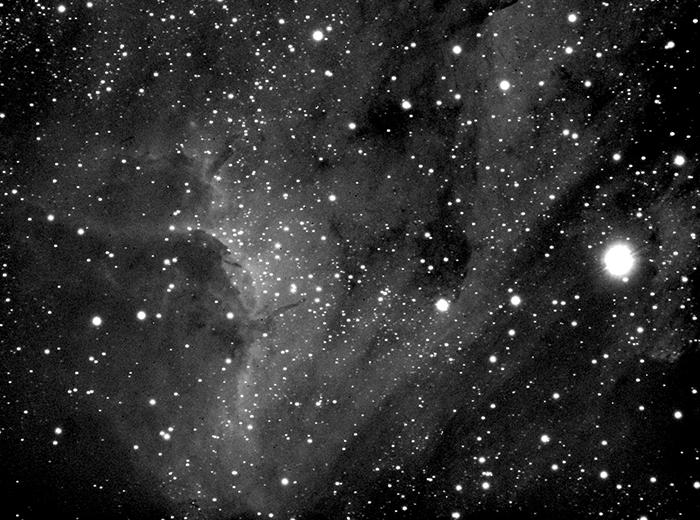 Pelican Nebula Steve Byers, CSM Observatory


Surprise CAMS Fireball
Students attending Astronomy 103 observational lab October 22nd, were treated to a bright fireball at 7:54 pm local time. This image was captured by our CAMS (Cameras For Allsky Meteor Surveillance) video camera, as part of CAMS-SETI operated by Dr. Peter Jenniskens, SETI Institute and NASA Ames Research Center. Support from Dave Samuels, single CAMS network.

The fireball entered Earth's atmosphere at a leisurely 17.3 km/s, and lit up the observatory viewing area. Professor Stanford: "It started out bluish white, then turned green, and it finally seemed to spiral and fragment at the end. It seemed to parallel Ophiuchus." Also see our fireball video on YouTube.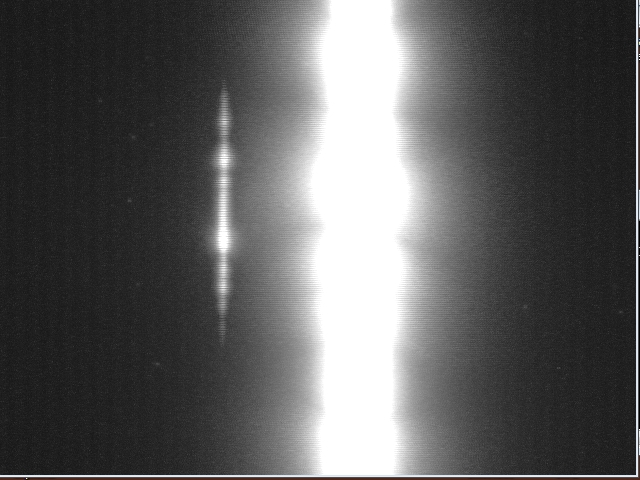 Oct 22 fireball over CSM campus. "Single Cams" image.


Quasar 3C 273 Red Shift
Using the program RSpec, CSM Observatory recently measured the redshift of distant quasar 3C 273 ~2.5 bly away in Virgo. (3C 273 is also a blazar) Data was taken thru our 140mm TEC f/7 refractor with ST-10 CCD camera the local night of 7-9-13. We used a low resolution Star Analyzer SA-100 diffraction grating and 4x300 second images were median combined, for analysis in RSpec.

H-alpha emission line was observed at 7589A (standard H-alpha = 6563A) to yield a redshift, z of .1563. (observed wavelength - standard wavelength / standard wavelength). 3C 273's redshift, z is listed as .1583. Thanks to RSpec developer Tom Field for help in establishing this procedure, to be used by students during Fall semester.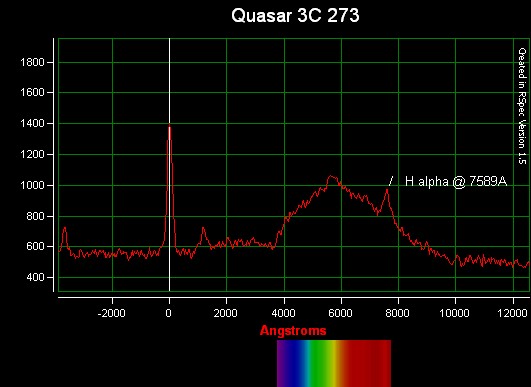 Quasar 3C 273, Rspec graph Dean Drumheller, CSM Observatory


NGC 4565
This image of edge on galaxy NGC 4565 in Coma Berenices was taken by Alex Chassy with our 20" telescope. 4565 lies 42 mly away, is magnitude 10.4, and contains more than 200 globular clusters. Larger image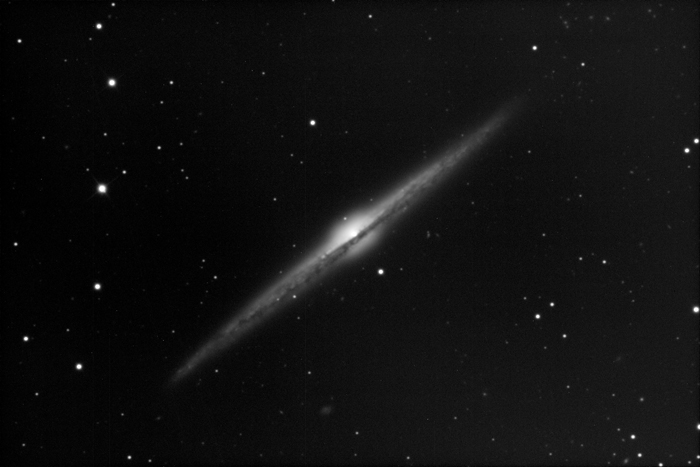 NGC 4565 Alex Chassy, CSM Observatory



M3 RR Lyrae variables
This 2 image video of globular cluster M3 by student Peter Roomian, reveals about a dozen RR Lyrae type variable stars. Their pulsation periods range from ~5 to 15 hours. These short period variables make excellent standard candles for measuring distances out to 2.5 million light years. Peter imaged M3 with our AP130 refractor and ST2000 camera on loan from Dr. Ken Lum of San Mateo County Astronomical Society.


M51 Whirlpool Galaxy
Just a faint smudge in the eyepiece, M51 reveals great detail in long exposure CCD images. Special Projects student Ali Emami combined 24, five minute exposures of M51 taken with our 20" telescope, to create this image. The Whirlpool lies ~ 23 mly away in the constellation Canes Venatici. Larger Image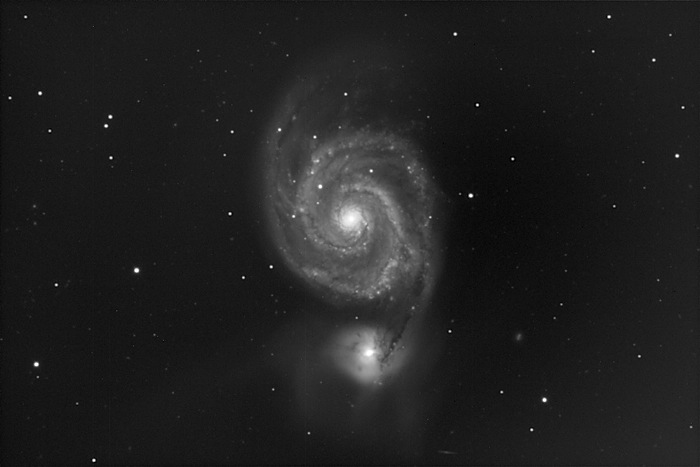 M51 Ali Emami, CSM Observatory


M64 Black Eye Galaxy
Spring 2013 semester has been an active time for our 20" RCOS telescope. Among objects photographed, the Black Eye Galaxy lies 24mly away in the constellation Coma Berenices. This image was taken by student Peter Roomian who combined 25, five minute exposures taken thru the 20" telescope. Most likely a collision between two galaxies, the inner and outer regions of M64 rotate in opposite directions.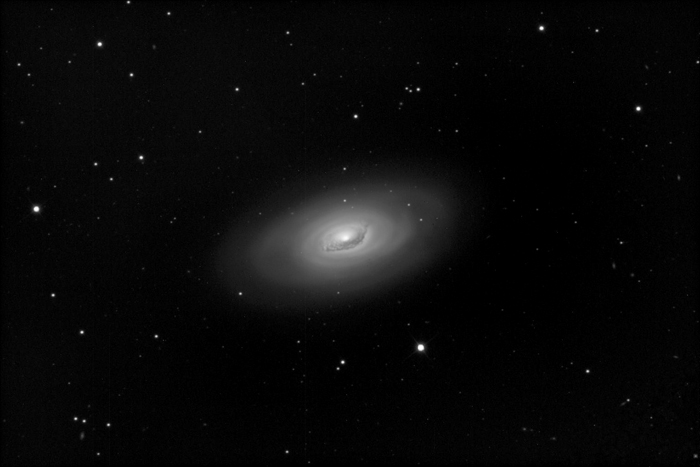 M64 -Peter Roomian, CSM Observatory


Jupiter
This Jovian image was created by CSM student Alex Chassy, using a Philips SPC9000N webcam on 3-14-13. The best 250 frames from a 30 second .avi video were combined, using Registax 6. Final adjustments were made in Photoshop. Clearly visible in Jupiter's atmosphere are North Polar Region, North Temperate Belt, North Equatorial Belt, Equatorial Zone, South Equatorial Belt, and South Polar Region. The image was taken thru our AP130 refractor.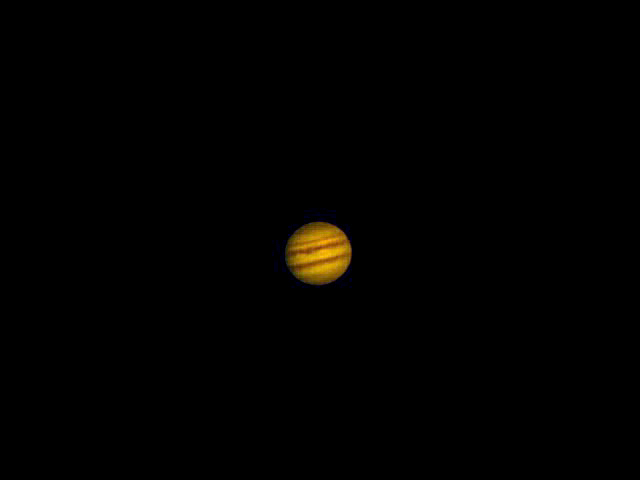 Jupiter -Alex Chassy, CSM Observatory


WUMa Eclipsing Contact Binary
Special Projects student Peter Roomian recently gathered data of eclipsing binary star WUMa. Peter's data covers ~4.8 hours and includes both the primary and secondary eclipse. WUMa is a contact binary system with components of similar size and spectral type. Imaging was thru our TEC140mm f/7 refractor and SBIG ST-10 CCD camera. Photometry performed in Maxim-DL.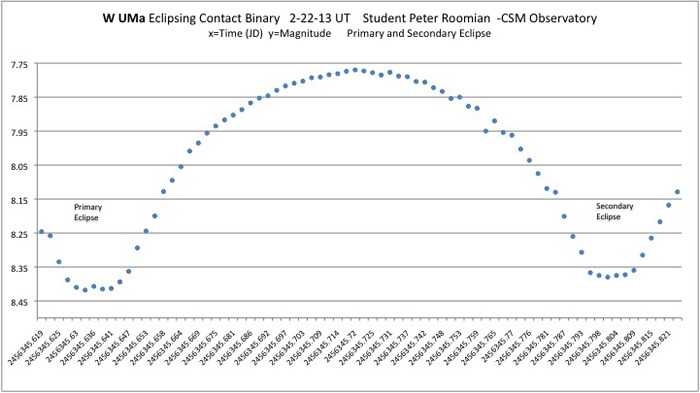 Contact Binary WUMa Peter Roomian -CSM Observatory



Comments welcome

Student Resources

NASA Julian Date converter
CSM telescope/camera information here.
RSpec real time spectroscopy here