Academic Adjustments & Services
The DRC is committed to working with each student to determine the most beneficial accommodations and services based on individual need.
The Disability Resource Center now has Ubi-Duo!
Ubi-Duo is an electric communication device used by individuals who are deaf or hard of hearing to enable instant communication.
Students who qualify may use it to meet with counselors, financial aid, admissions and records, or any other services on campus.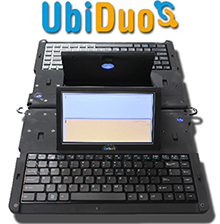 Examples of accommodations and services offered:
Extended time for testing – typically x 1.5
Distraction-reduced setting
Reader/scribe for testing
Computer/spell checker for written exams
Note taking services (peer, smart pen, digital recorder)
Alternate format for books (e-text, braille, audio)
Voice recognition software
Tape recorded lectures
Sign language interpreters
Assistive listening device
Real time captioning
Enlarged print
Tactile graphics
Accessible furniture
Priority registration services