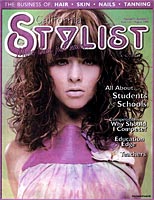 Competition: Why Should I Compete?
By Ray Sanchez
California Stylist August 2006
---
Competition can be defined as a "trial of skill or ability." So how does one get the opportunity to demonstrate their skills or ability?
Competitions have evolved at the school, local, state, and national levels to provide a platform to showcase the talents and artistry of everyone from students to professionals.
These competitions include all categories: hair, makeup, nails, etc. Hair World is the premiere international event for cosmetologists and barber/stylists at every level, comparable in its scope and ideals with the International Olympic Games.
So how can students benefit from entering competitions? Suzanne Russell is the cosmetology department chairperson at the College of San Mateo (CSM); her team garnered the overall team trophy in the Mardi Gras, Fantasy category at the Santa Cruz competition in 2005. She says that "all of the students who won last year have graduated and moved on to their careers, but from my perspective, I witnessed the students developing their hairstyling and makeup skills at an accelerated pace. Each student's aesthetic sensibility was enhanced. Most importantly, the students collaborated, worked as a team, sought critique, and implemented suggestions from the student body of the department. This, in turn, engaged many of the non-team members, and they benefited from the competition in some smaller measure. The competition did unify our students, and everyone took pride in the winning. It also underscored what cosmetology teachers continue to stress: that practice makes perfect."
Fran Handy, cosmetology instructor, and Marcia Bonawitz, chairperson of the cosmetology department, from Sacramento City College (SCC), agree with Russell that competitions are a team effort. Furthermore, they state that instructors who are creative in the industry are an important part of that team. Instructors deal with the students' fears and instill inner confidence.
In addition, Handy and Bonawitz say that students start with what they have learned in the classroom, but during competition, students also benefit from exposure to the efforts of other teams and gain valuable experience from observing the artistry and skill levels of their fellow competitors. Whether students come home with trophies or not, everyone is a winner because of the lessons learned outside of the classroom and because competitions teach students the tricks of the trade necessary to survive in the industry. Competitions help students go on to become very successful in their careers.
Lisa Piazza, a student from SCC and first-time competitor, says that competitions are wonderful learning experiences that include "trying to figure out what the judges are looking for, the opportunity to compete with fellow students, looking at other's skill levels, plus the adrenaline rush. These are all components that are affected. All competitors take something home."
Robert Plato is a seasoned salon owner who heads competitions throughout the state for the California Cosmetology Association (CCA). "The first time I competed," he says, "I was so scared. My teacher thought I had talent; after the competition, my self-esteem and confidence were much higher. The camaraderie with other team members is so much fun, and networking with professionals helped me a lot. Just knowing you have the chance to maybe do something better than others and to be recognized for it, really gives you a buzz. Competitions also look good on my résumé and could hopefully help me become a platform artist."
Barbers compete for similar reasons as the cosmetologists: they are competing with their peers, but they have a more social atmosphere, helping one another and pointing out flaws, tactfully of course. For them, it's about self-image, a sense of accomplishment, and a place to demonstrate their artistic skills before an audience and among their colleagues.
Also, it's excellent public relations when they mount a trophy in the salon window: It adds prestige to the stylist.
Bob Paez, barber/stylist and champion competitor has a styling salon in the tony part of Willow Glen, a unique community in San Jose, California. On the day we visited with him, he was constantly in motion: haircuts, shampoos, telephones ringing, conversations, and laughter. Here was a professional who loves his work. All of the components of a successful operation were there.
So why compete? Paez claims that he competes for personal satisfaction, fulfillment, and recognition, especially from fellow barbers, who learn to respect each other's artistic skills. Winning has other rewards: Paez's clientele include football greats Jeff Garcia and Joe Kapp, local dignitaries and politicians, successful business professionals, and people, both men and women, from every walk of life. Wherever Paez goes, people recognize him in the street, at the trade shows, and the stores he patronizes. "It's a good feeling," he says.
Paez started competing in 1966 while still in barber college. His first win was in Fresno and his second in San Francisco. He has also competed and won in Long Beach, Atlanta, San Diego, Kansas City, Los Angeles, and Las Vegas. He has also won first, second, and third places in the women's category in Santa Clara, Sacramento, and Los Angeles. In 2006, he won the Beauty Revolution Cover magazine award in Los Angeles. Overall, he has won somewhere between 75 - 80 trophies, many of which he has donated to the Special Olympics to be re-tooled and awarded to participants.
As a professional competitor, he has had to consider more than just haircuts, color, extensions, and makeup. He has taught his model, Rich Adams, how to walk, what to wear, and how to carry himself in front of the judges. In addition, Paez underwrites the expenses for his model's clothes, food, lodging, and transportation, not an inexpensive undertaking.
The common denominator that all competitors share, including Paez, is that they love to do it. It's a wonderful learning experience, you learn by looking at what the other competitors are doing, it develops your self-confidence, and it really gets your adrenaline flowing.
From students to seasoned veterans, competitions have a lot to offer. They provide camaraderie, a challenge, a test of artistic skills, the chance for recognition, and the opportunity to learn. Professionals should compete to stay abreast of current styles and technology, and to hone their skills in a highly competitive field. Students start competing within their schools and thanks to the energy provided by their instructors.
Cosmetology instructors play a crucial role; preparing for events requires additional time outside of classroom instruction to assemble teams, to choose models, and to coordinate attire. Instructors are to be commended for their spirit and dedication and for the inspiration that remains with the students for a lifetime. If you want the time of your life, enter a competition.
You'll love it: Just ask a competitor.