Career/Major Exploration
Let us help you explore and navigate career pathways aligned with your "why." There are many resources available to you.
Please join us for an overview of one great resource, Roadmap to Careers by
Roadtrip Nation
, a database of hundreds of interviews with professionals all walks of life: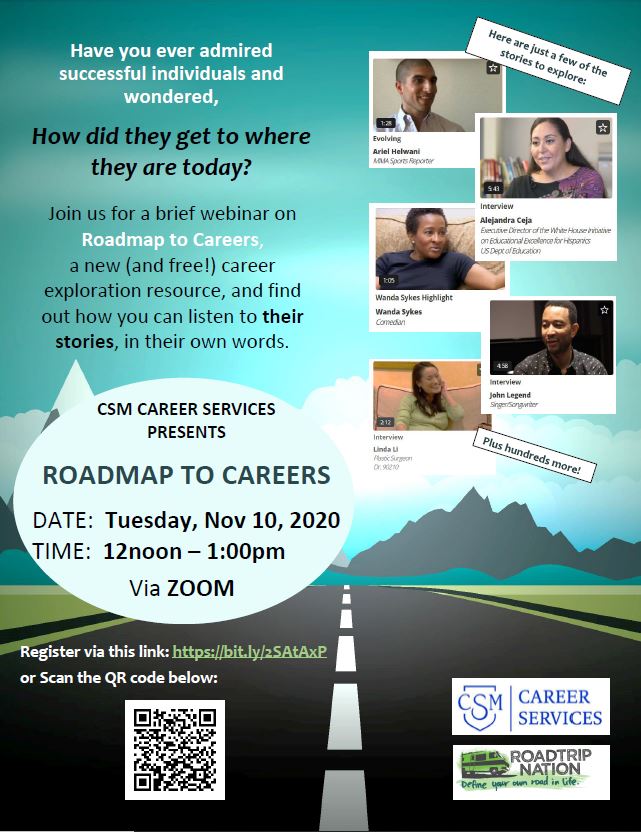 Learn more using the links below, or make an appointment to meet with one of our career counselors by filling out a
Career Services Inquiry Form
.
Self-Exploration
Start with MyMajors, an online, self-guided interest and skills assessment tool that will match your profile with suggested CSM majors.
16 Personalities
Discover your personality type by taking a personality test.
Eureka
Multiple career assessments that will match you to different career fields. Contact us with your G number for your free registration code.
Career Coach
Career assessment which recommends careers suited to you and shows you the educational programs needed to get there.
Ten Questions to Discover Your Future
Questions to help you discover your path.
Career Pathways
Career Classes