Overview


Support CSM funds go directly to students via high school scholarships and student services support. You can
make a donation
directly via our foundation (please designate that it's for CSM Support).
Additionally, you can make a difference for our students by enrolling as a member of eScrip, using the CSM custom link for your Amazon purchases, or picking up a free S.H.A.R.E.S. card for your purchases at participating stores (noted below).
Your enrollment costs nothing and will greatly benefit a CSM student. Thank you for your consideration and support of CSM!
Participate in S.H.A.R.E.S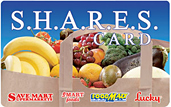 S.H.A.R.E.S. card program offers an easy way to let your purchases support local education. When you participate, CSM will receive 3% of all qualifying purchases. The stores that participate are Lucky, FoodMaxx, Savemart, and Smart Foods.

Pick up your S.H.A.R.E.S. card now
by contacting Beverley Madden at
maddenb@smccd.edu
or
(650) 574-6538. It's that easy!


Participate in eScrip

eScrip partners with retailers to use your purchases to drive corporate donations.
Sign up now!
Use Group ID 500023653 for College of San Mateo.
Use Group Id 500023769 to sponsor the CSM Mary Meta Lazarus Child Development Center.
Amazon Associates Program
When you shop at Amazon via our custom link,
collegeofsanmateo.edu/amazon
,

CSM benefits! Amazon.com generously donates 4% of your purchases back to
CSM when you arrive at their site by using our link.
learn more >>
Questions?
Contact Beverley Madden for assistance at
maddenb@smccd.edu
or (650) 574-6538.