Participate in eScrip
eScrip partners with retailers to use your purchases to drive corporate donations.
Sign up now!
Use Group ID 500023653 for College of San Mateo.
Use Group Id 500023769 to sponsor the CSM Mary Meta Lazarus Child Development Center.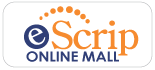 You can now shop at over 1,000 of your favorite online merchants - right from our web site -
and we earn up to 16% of the purchase amount! Here's how:
1.
Enroll
with www.escrip.com
2.
Click
on the Online Mall logo at www.escrip.com
3.
Shop
at your favorite brand name stores and automatically donate to your group
While you are at the Online Mall, download "
AutoEarn
" to earn contributions every time you shop without having to visit the Online Mall first!
Questions?
Contact Beverley Madden for assistance at
maddenb@smccd.edu
or
(650) 574-6538.