CSM Jazz Festival
College of San Mateo 17th Annual Jazz FestivalFriday November 22, 2013, CSM Theatre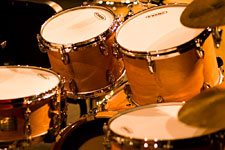 The 17th Annual CSM Jazz Festival featured 25 of the Bay Area's top high school jazz bands and combos in a friendly, non-competitive environment. The event also featured a noon concert by the CSM Evening Jazz Ensemble with special guest artist, world renown jazz artist
Dana Leong
. Additionally, the festival offered free workshops in Jazz improvisation techniques, by
Dmitri Matheny
, Latin Rhythm Section techniques by
John Santos
(CSM) and a discussion by
Dana Leong.
Participating schools received feedback by some of the most well-respected educators in the field, including composer,
Dr. Aaron Lington
from San Jose State University,
Dr. Steven Roach
from California State University, Sacramento,
Chuck Tumlinson
from California State University,Fullerton,
Jon Nordgren
from Cabrillo College,
Curtis Gaesser
from Folsom High School, drummer
Curt Moore,
and trumpeter
Chuck MacKinnon
from College of San Mateo.
For more information, please contact Mike Galisatus at
galisatusm@smccd.edu
or (650) 574-6163.
2013 Schedule of Events
Big Bands
7:30 am

–

7:55 am
Burlingame High School

David Kimura

8:00 am

–

8:25 am
Woodside High School
Bill Tolles
8:30 am

–

8:55 am
Mills High School
Doug Miner
9:00 am

–

9:25 am
Half Moon Bay High School
John Evans
9:30 am

–

9:55 am
San Mateo High School
Attilio Tribuzi
10:00 am

–

10:25 am
Carlmont High School
John DaBaldo
10:30 am

–

10:55 am
Junipero Serra High School
Jay Jordan
11:00 am

–

11:25 am
College of San Mateo
Mike Galisatus
11:30 am

–

11:55 am
Acalanes High School
Norm Dea
12:00 pm

–

12:25 pm
El Camino High School
Ray Galela
12:30 pm – 1:20 pm
CSM Monday Evening Jazz Ensemble
With special guest artist Dana Leong
1:30 pm – 1:55 pm
Aragon High School
Troy Davis
2:00 pm

–

2:25 pm
Hillsdale High School
Kevin Gallagher
2:30 pm – 2:55 pm
Homestead High School
John Burn
3:00 pm – 3:25 pm
Northgate High School
Greg Brown
3:30 pm – 3:55 pm
Valley Christian High School
Marcus Wolfe
4:00 pm – 4:25 pm
Albany High School
Craig Bryant
4:30 pm – 4:55 pm
Los Gatos High School
Chris Marra
5:00 pm – 5:25 pm
Gunn High School
Keith Hunter
5:30 pm

–

5:55 pm
Riordan High School
Scott Souza/James Dumlao
Combos
8:00 am

– 8:40

am
College of San Mateo Combo 4
Chuck MacKinnon
8:45 am

–

9:25 am
Carlmont High School
John DaBaldo
9:30 am

–

10:10 am
College of San Mateo Combo 2
Chuck MacKinnon
10:15 am

–

10:55 am
El Camino High School
Ray Galela
11:00 am

–

11:40 am
S.F. University High School
Tim Price
12:30 pm

–

1:20 pm
CSM Monday Evening Jazz Ensemble
With special guest artist Dana Leong
1:30 pm

–

2:10 pm
Homestead High School
John Burn
2:15 pm

–

2:55 pm
Albany High School
Craig Bryant
3:00 pm

–

3:40 pm
College of San Mateo Combo 1
Chuck MacKinnon
3:45 pm

–

4:00 pm
Riordan High School
Scott Souza/James Dimlao
4:30 pm

–

5:10 pm
Northgate High School
Greg Brown
5:15 pm -6:00 pm
College of San Mateo Combo 3
Chuck Mackinnon
Clinics and Workshops
11:00 am – 12:15

pm

John Santos
Latin Rhythm Section Techniques
Building 5, Room 202
10:30 pm – 11:30

pm

Dmitri Matheny
Jazz Improvisation Basics
Building 4, Room 135
12:30 pm – 1:30

pm

Dana Leong
Concert
1:45 pm – 2:45

pm

Dana Leong
Jazz Clinic Q and A
Building 5, Room 202
1:45 pm – 2:45

pm

Dmitri Matheny
Jazz Improvisation Basics
Building 4, Room 135