Benefits & Opportunties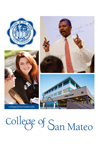 View Brochure
College of San Mateo sits in the San Mateo hills and presents picturesque panoramic views, lush greenery, and classic architecture. Its day, evening, and weekend students enroll in a wide variety of transfer and career programs.The state-of-the-art Science Building and Planetarium, along with KCSM TV and FM and its broadcast studios, are just some of the exciting features available to CSM students. As part of the educational experience, students also have the opportunity to participate in intercollegiate athletics, student government, study abroad, and more.
Estimated College Costs
Community colleges are the best value in higher education and can save you thousands of dollars each year.
Fast Facts
Guaranteed Transfer Contracts