Meet the Staff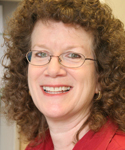 A counselor for EOPS and the Multicultural Center,
Sylvia Aguirre-Alberto
has counseled students for twenty years. She particularly enjoys working with students who are non-native English speaking-she is bilingual Spanish-speaking-AB540 and foster youth. In addition to counseling, Sylvia instructs CRER 121: Planning for Student Success. A graduate of College of San Mateo, Sylvia holds an associate's degree in Social Science, a bachelor's degree in Human Development and a master's degree in Counseling, both from California State University, Hayward. When she is not working, Sylvia enjoys time with her large extended family.
Not Pictured



Krystal Romero,
Interim CalWORKs Coordinator/Counselor, has been at CSM since 1999. She works with new students and their transition from high school to college; works closely with instructors who teach pre-transfer level courses to ensure that their students are fully aware of the programs and services here on campus to help them succeed; and meets with students who are striving to improve their grades to attain good academic standing. She earned a Bachelor's Degree in Human Development from CSU, San Luis Obispo, and during her free time, she hangs out with family and friends, watches her youngest child explore the world and has fascinating conversations with her older one, and camps with her husband.