Meet the Faculty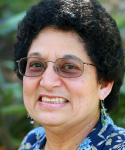 Tania Beliz, Professor of Biology
Telephone:
(650) 574-6248
Office:
36-205A
Email:
beliz@smccd.edu

Office Hours
Website
Tania Beliz holds a Ph.D. from UC Berkeley. Her training as a biologist/naturalist started at an early age growing up at her grandparents' farm. Gardening, photography, nature walks, cooking, and reading murder mysteries are some of her hobbies.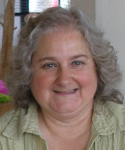 Lin BowieOffice:
36-205B
Email:
bowiel@smccd.edu
Lin Bowie was born in Birmingham, Alabama, but moved around the country during her school years. She fell in love with nature and biology at a young age, and decided to be a biologist at age nine. She obtained her B.A. in biology at Knox College in Galesburg, Illinois. Having spent her elementary school years in California, Lin returned to the University of California at Berkeley, where she earned her M.S. in range management from the School of Forestry. Lin worked as a professional biologist and environmental scientist and consultant for 30 years for various public and private organizations. Lin has been teaching at the College of San Mateo since 2002, but left private practice in 2007 to devote her career to teaching. Lin teaches biology, health science and horticulture. She enjoys gardening and floral design, and volunteers as a Master Gardener and Master Composter.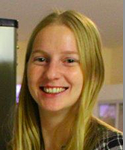 Catherine Creech
Office:

36-205E


Email:
creechc@smccd.edu
Catherine Creech was born in San Francisco, went to Mills High School, and attended CSM before transferring to San Francisco State University. At SFSU she studied Botany and Mycology and graduated with her M.S. in Ecology, Evolution, and Conservation Biology. In her free time Catherine likes to read, hike, mushroom hunt, and hang out with her cat.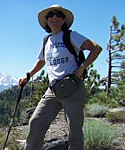 Kathy Diamond, Professor of Biology
Telephone:
(650) 574-6602
Office:
36-205F
Email:
diamondk@smccd.edu
Kathy Diamond was born in San Francisco. Starting college as an undeclared major torn between philosophy and French literature, she became overwhelmed by curiosity and completed a B.A. in Biology at U.C. Santa Cruz, an M.A. in Zoology at UCLA and a Ph.D. in Biochemistry at UCSF. She did research and lectured at UCLA until discovering the superior lower-division science education offered by community colleges. Kathy loves teaching CSM students, hiking, walking, gardening, movies, novels, family and friends. And chocolate.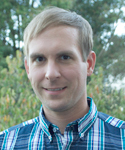 Paul HankampOffice:
36-205A
Email:
hankampp@smccd.edu
Paul Hankamp has a Master's degree in Biology with concentration in Ecology and Systematics from San Francisco State University. He specializes in botany and has spent recent years teaching students in the field, classroom and laboratory. At CSM, Paul teaches Biology, Botany, and Health Science, both online and on campus. He has passion for bringing active learning strategies into the classroom and motivation to share his enthusiasm with students.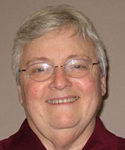 Fern Lucero, Assistant Professor of BiologyTelephone:
(650) 378-7301 ext.19122
Office:
36-205C
Email:
lucero@smccd.edu
Fern Lucero was born & raised in a small town in Illinois. She has a B.A. & M.A. in Zoology and a Ph.D. in Microbiology all from Southern Illinois University, Carbondale. She also received a Post Doctoral Fellowship in Virology at Baylor College of Medicine, Houston, Texas. She has taught at Southern Illinois University, University of North Dakota, University of California, San Francisco, Skyline College & College of San Mateo. Presently she teaches Biology, Human Biology, and Health Science at CSM. She has two daughters and one son. All are in the field of education. She enjoys reading, old movies and walking.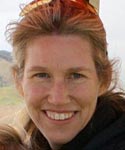 Theresa Martin, Professor of Biology
Telephone:
(650) 574-6252
Office:
36 - 205B
Email:
martin@smccd.edu
Office Hours
Website
Theresa Martin teaches Human Anatomy and Physiology. Her fascination with the human body began as a competitive runner and coach. She received Master's degrees in Exercise Science and Endocrinology from UC Davis and UC Berkeley, respectively. She enjoys working with students to prepare them for careers in allied health. In her free time she raises two young children and enjoys the outdoors.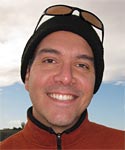 Santiago PerezOffice:
36 - 205D
Email:
perezetchavarrias@smccd.edu
Santiago Perez was born and raised in Maracaibo, Venezuela and is of Uruguayan decent. He moved to the US to pursue a B.S. degree in Biology with an emphasis in Marine Biology from Florida Atlantic University as well as a Master of Science degree. He then received a Ph.D. degree from Oregon State University and is currently doing post-doctoral research at Stanford School of Medicine. Throughout his academic career, Santiago developed a strong passion for teaching and research. His research is focused on cnidarian-dinoflagellate symbioses, and in developing the sea anemone Aiptasia as a model system for such studies. He greatly enjoys teaching a wide range of biological topics including Human Anatomy and Physiology, Marine Animal Physiology and Invertebrate Zoology. Santiago's hobbies include SCUBA diving, piloting airplanes, playing guitar and the didgeridoo, grilling and home brewing (not all at the same time).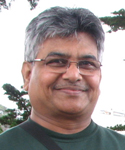 Lakshmikanta Sengupta, Ph.D.Office:
36-205C
Email:
senguptal@smccd.edu
He wants his students to leave his classes more "awake" than when they came in. He engages students using diverse active learning strategies [role playing, concept mapping, think-pair-share, case studies, storyboarding, poster sessions and presentations]. His main goal is to encourage independent and group thinking and analytical reasoning to augment their problem solving skills, thus encouraging them to not just memorize. The key is to relate to the audience by starting from what they know and building upon it. His favorite approach is: "If you don't have any question I have some for you". Sengupta's teaching areas include genetics, biotechnology, general biology, human biology and human anatomy and physiology. He has 32 publications in peer reviewed journals. He is currently active with CCB FEST [Community College Biology Faculty Enhancement through Scientific Teaching] - a NSF sponsored program for enhancing pedagogical expertise among community college biology instructors (CCBI) through scientific teaching. In addition to mentoring students, he likes nature, photography, walking, and gardening.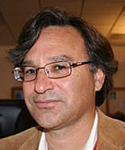 Christopher Smith, Assistant Professor of BiologyTelephone:
378-7301 ext. 19146
Office:
36-205E
Email:
smithchris@smccd.edu
Christopher Smith's professional interests include microbiology, immunology and pharmacology. He was raised in Massachusetts, where he attended Suffolk University in Boston and the University of Massachusetts earning first a B.S. and then an M.S. in Biology. After earning a Ph.D. from the Biochemistry Department of the Vanderbilt University in Nashville, Tennessee, he worked for several years as a research scientist in the pharmaceutical industry. His approach to scientific education is that Science is just as much critical thinking as a collection of facts to memorize. Chris hopes to bring his enthusiasm for scientific inquiry to the classroom.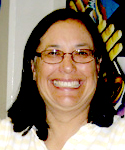 Carlene Tonini-Boutacoff, Professor of Biology
Telephone:
(650) 574-6250
Office:
36-205D
Email:
tonini@smccd.edu
Carlene Tonini's teaching areas include general biology for nonmajors and majors and human anatomy and physiology. For the past 35 years she has been very active in teaching and learning activities in the sciences. Her experience ranges from middle school science curriculum developer to many years in the community college scene including Napa College, Canada College and College of San Mateo. She has also been a content expert and contributor to a number of college biology textbooks, laboratory manuals and ancillaries. Her current project includes the Biology Curriculum Enhancement Project (BioCEPT), a National Science Foundation funded curriculum improvement project at the College of San Mateo. When not in the classroom or office, Professor Tonini can be found on the tennis courts or ski slopes and trails of the Sierras.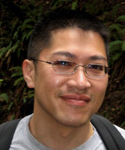 Huy Tran, Assistant Professor of Biology
Telephone:
(650) 574-6241
Office:
36-205C
Email:
tranh@smccd.edu
Office Hours
Huy Tran was born in Vietnam and came to the United States in 1975. He grew up in southern California and spent much of his childhood in his backyard catching creep-crawly critters with his brothers. He received his Bachelor's of Science in Biology from the University of California, San Diego and his Master's of Science in Biology from California State University, Hayward (East Bay). When he's not making life difficult for his students in class you can usually find him hiking on one of the many trails in the greater Bay Area. Besides his love for anything science-related, Huy's other interests include photography, art, camping and distance running.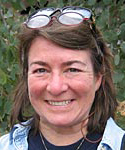 Wendy Whyte, Assistant Professor of Biology
Telephone:
(650) 378-7301 ext. 19425
Office:
36-205E
Email:
whytew@smccd.edu
A former CSM student, "Dr. Wendy" is living proof there is life after Community College. Dr. Wendy went to College of San Mateo (Chemistry major) and transferred to UC Berkeley (Go Bears!).She has an A.B. in Biochemistry. Her M.S., Ph.D. is in Molecular Genetics from Albert Einstein College of Medicine, Bronx NY. Research experience includes metabolism of anticancer drugs and mechanisms of gamete formation. When she isn't teaching or prepping for classes, she volunteers for Foster City's Education Advisory Committee, hangs out with her family, and communes with the great outdoors by day hiking or skiing.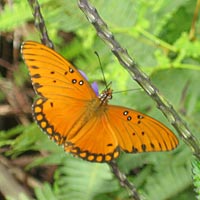 Shaye Zahedi, Assistant Professor of BiologyTelephone:
(650) 574-6240
Office:
36-205F
Email:
zahedi@smccd.edu
Shaye Zahedi is an adjunct instructor of Biology at CSM.
She teaches health science.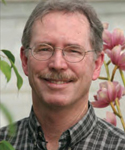 Matt Leddy, Professor of Biology, emeritus
Matt Leddy enjoyed teaching at CSM from 1990 to 2012, and taught horticulture as well as biology. He enjoys hiking with his wife, dining out and kanikapila (getting together to play ukulele and eat) with friends.