Overview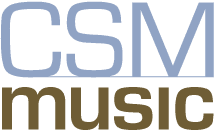 Earn a Degree...
Take all your lower division harmony and musicianship classes here at CSM and then transfer to a four-year institution as an upper division music major! CSM degrees include AA-T in Music, AA in Music, AA in Electronic Music, and a Certificate in Electronic Music.

Create Electronic Music...
Record, mix, and edit your own tracks; use MIDI and analog synthesizers, samplers, and drum machines; and learn the latest music software and hardware! Present your work through live music and multimedia performances, soundtracks for video and film, and audio for the web.

Perform in an Ensemble...
Perform with the Jazz Bands, Symphonic Band, Jazz Combos, Concert Choir, or the Afro-Latin Percussion Ensemble. Improve your musicianship and earn credit while you play!

Listen & Appreciate...
Fulfill your general education humanities requirements by Music Listening and Enjoyment (Mus. 202), Jazz History (Mus. 275), World Music (Mus. 250), Fundamentals of Music (Mus. 100), or Harmony I (Mus. 131). Evening and online classes are available.

Learn an Instrument...
Take voice lessons, learn to play the piano, guitar or congas. Affordable classes for beginning and advanced students!

Join us...
We're looking for a full-time tenure-track faculty member! Details are posted; apply by March 13, 2020 for the first review of applications.

Coming soon! New courses for 2020-21
Music 120 Songwriting
Explores the process of songwriting, allowing students to use their creativity while building skills in songwriting and performance. Specific topics include: contemporary song chord structures and harmony; form; melody; rhythm; lyric creation and original compositions and performances. No song-writing experience necessary.
Music 280 History of Electronic Music
Overview of the development of electronic music from the late 19th century to present. Exploration of how the development of technology has impacted music and culture over time. Topics include early electronic musical instruments, new musical styles, the introduction of the synthesizer and drum machine, the role of the computer in music production and the rise of mainstream electronic music. In addition, students will analyze historically significant works from the experimental art music of the mid-20th century through the popular forms of music today.

Music 286 Music Business
Overview of the business and legal aspects of the music industry. Topics include: record contracts, performance agreements, publishing, licensing, self-release, distribution, copyright, promotion and social media. In addition, the duties and responsibilities of music producers, agents, managers, promoters, and performing artists will be examined.

Music 423 Small Ensembles
This course is designed for advanced electric instrumental, acoustic instrumental, and vocal students who want to interpret, perform, and record ensemble repertoire at a professional level. The course content, depending upon the instrumental and vocal makeup of the class, will include a diversity of styles that may range from Latin, Asian, popular, electroacoustic, and contemporary classical music.