Meet the Faculty
Patti Appel
Title:
Professor, Graphics
Degrees:
B.A., Santa Clara University; M.F.A., UCLA
Teaching Experience:
Since 1990
Career Highlights:
After 15 years in another career, CSM facilitated and supported my career transition into graphic design. The highlight of my professional life was to return to CSM as a professor to give back to this great college the opportunity I was given. To see my students successfully find their career path is the most gratifying experience of all.
Hobbies:
Acting, singing and watercolor painting.
Quote:
"Creativity, like human life itself, begins in darkness." - Julia Cameron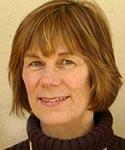 Claudia Steenberg
Title:
Instructor, Graphics
Degrees:
B.A. and M.A., University of California, Berkeley
Teaching Experience:
Since 1973
Career Highlights:
Fulbright Scholar, Warsaw, Poland; New York Art Directors Club Annual Award, Editorial; Los Angeles Art Directors Annual Award, Publication Design; Ozzie Bronze Award, Best Overall Design, consumer magazine; Washington Software Association, Best Magazine Cover Design Award; seeing my CSM students achieve professional success.
Hobbies:
Walks on the coast, observing the changing colors, family time.
Quote:
"You can accomplish anything if you put your mind to it." – My father