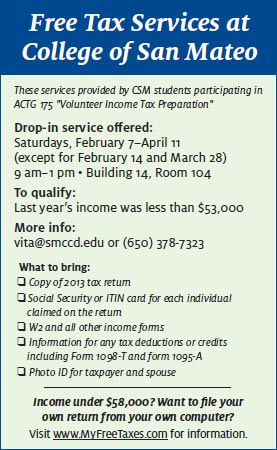 Volunteer Income Tax Assistance (VITA) Program
VITA volunteers help low-income people prepare their tax returns at a VITA site, such as a local community center. For information about VITA program, visit the
IRS VITA page
.
The VITA class is for students who are:
Considering tax preparation as a career, and would like a short course and hands-on experience to see if they like it
Committed to tax preparation as a career, and would like additional training and experience to strengthen their resume.
No previous tax experience is required to enroll in the VITA class. If you are interested in a career a tax preparer please see our tax preparer certificates.
In ACTG 175, the VITA Training class at College of San Mateo, you will learn how to:
Prepare a basic Federal and California individual income tax return
Calculate the Earned Income Tax Credit (EITC), Child Tax Credit, Child and Dependent Care Credit, and basic deductions and adjustments
Determine filing status and dependency exemptions
Use TaxWise software
After completing this course, students are required to volunteer at a local VITA site for 20 hours of service. You will prepare returns for students and community members during February and March. On the first day of class, you will select a VITA site and a shift to serve. You will choose the day, time, and location best for you.
Students may earn 2 units of college credit for their volunteer service by enrolling in ACTG 175. CSM will offer a VITA training class during the first three Saturdays of the Spring semester. The VITA class enrollment is limited to 35 students and the class always fills to capacity. Please enroll early. If the class is full when you register, you can sign up for the wait list or arrive early to the first class meeting to see if space is available to add the class.
Class procedures
The class starts on time. You must be on time each day. Please arrive 10 minutes early to each class meeting.
There are three class meetings and you must attend the full session each day.
There will be many unregistered students who will attend the first class meeting hoping to add the class. If you have not arrived during the first 30 minutes on the first day, you will be dropped from the class.
If you are interested in learning to prepare individual tax returns, but you do not want to volunteer at a VITA site, please enroll in ACTG 171, Individual Income Taxes, during the Fall semester. The VITA class is only for people who will volunteer at least 20 hours at a VITA site.