Meet the Team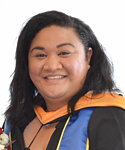 Finausina Tovo
Responsibilities:
Manages a program serving Pacific Islander students, which facilitate access to higher education. Provide outreach to the Pacific Islander community and collaborates with on-campus resources to increase academic success. Leads a team of specialists from different departments to offer extra support in areas that includes registration, financial aid and counseling. In addition, an adjunct professor for the counseling department.
Years at CSM:
Since 2011
Teaching Experience
: Since 2015
Education:
M.A., Education, Counseling /Student Personnel, San Jose State University; B.A., Sociology, University of California, Riverside
Other Interests:
SF Giants, Playing the Trombone, and college football
Quote
: "Two roads diverged in a wood, and I—I took the one less traveled by,
And that has made all the difference." – Robert Frost.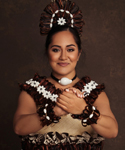 Melissa (Ehm) Matavai Alailefaleula 'Ahio Aliu
Titles:
Counselor, Instructor - Mana, Promise Scholars Program
Pronouns: She/her/hers

Ehm is a first-generation Samoan and Tongan womyn, counselor-educator, and community activist born and raised in San Francisco and resides in the Bay Area. As a former College of San Mateo alumni, she now serves as a Mana instructor and counselor. Ehm's political and cultural activism is rooted in her faith, social and community justice, radical love and liberation practices– all core to sustaining student leadership/success.
What keeps my light guided in ancestral and indigenous strength, "Oku kei tongia pe hoku loto 'I ho'o 'ofa, pea oku ikai ke u malava'o matanag mei ai.- Tongan proverb (I am still mesmerized by your love, and it is hard for me to disengage from it.) Tongia is therefore, metaphorically and aesthetically, considered as implanted in the psychological and emotional states of happiness, love for others and any artwork or deed that includes the qualities of beauty and harmony. (Tofuaipangai and Camilleri, 2016).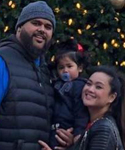 Steven Petelo
Responsibilities:
Instructor for Project change and Scholar Program
Years at CSM:
Since 2015
Teaching Experience
: Since 2008, Community College since 2015
Education:
Ed.D, SFSU (In progress); M.A. Criminal Justice, Boston University; B.S., Kinesiology, University of La Verne
Other Interests:
Speding time with my family, playing golf, NFL and NCAA sports
Quote
: "The greatness of a man is not in how much wealth he acquires, but in his integrity and his ability to affect those around him positively" – Bob Marley.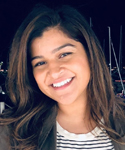 Griselda Paredes
Responsibilities:
Leads retention efforts for Mana, Umoja and ACCEL Learning communities. Offers extra support in areas that includes registration, financial aid and counseling. Griselda works to keep students in college and attending classes so they graduate and transfer. As a Retention specialist, she provides advisement to students to boost engagement, progress, and success.
Years at CSM:
Since 2018
Teaching Experience
:
K-12 since 2006, community college since 2014
Education:
M.S., Higher Education Administration w/ specialization in Student Affairs, University of Rochester; B.A., Sociology, California State University, Chico; A.A Social and Behavioral Sciences, Butte Community College
Other Interests:
Music Festivals, Academic conferences, thrifting
Quote
: "Everybody is a Genius. But If You Judge a Fish by Its Ability to Climb a Tree, It Will Live Its Whole Life Believing that It is Stupid." - Unknown