Meet the Staff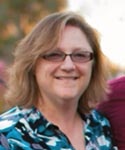 Carol Ullrich
Title:
Assessment Services Coordinator
Responsibilities:
Manages the College assessment program; coordinates the Priority Enrollment Program (PEP); assists with the College articulation services; participates in student success programs and activities.
Years at CSM:
Since 2008
Education:
Bachelor of Business Administration, concentration in Marketing, Gonzaga University
Other Interests:
Intramural softball, movies and travel.
Not Pictured:

Karen Rose Naval
Title: Office Assistant II
Responsibilities: Assists students in understanding Assessment Services and the process at CSM; proctors placement exams in Assessment Services; participates in various Student Services projects.
Years at CSM: Since 2013
Education: B.S. Administration of Justice, San Jose State University; A.A. Microcomputer/Office Assistant, A.A. Social Science, and A.S. Administration of Justice, College of San Mateo
Other Interests: Watching comedies, listening to music, and spending time with family.