Technical Specs
See Also:
Booking
|
Rates
| Technical Specs |
Facilities
|
Stage Dimensions
|
Seating
|
Theatre Tour
Our 400-seat facility with state-of-the-art surround-sound, a new lighting control system and convienient parking is the site of many college events such as plays, concerts, dance, performances, lectures and graduations.
CSM Theatre technical specifcations are as follows:
Seating Capacity
400 plus 2 areas for physically disabled guests.
Stage Dimensions
Length: 27'4" plaster line to back wall
42' 11" apron (apex; curved) to back wall
15' 7" apron (apex; curved) to plaster line
Width: 32' clear and usable centered upstage of pros.
56' apron downstage of pros.
Height: 55'' to grid
Stage Flooring
A-A grade ¼" Masonite black matte over original hardwood
35' dentered; covers apron as well
20 traps total centered to set prop below
Proscenium
32' W x 18' H; 16" thickness
Orchestra Pit
8' 10" deep at point centered
35' wide
5' 10" drop from stage level
Apron height 23.5"
Crossover
Crossover through shop; upstage of back wall
Loading Door
Loading door stage to shop: 32'W x 15' 9" H
Shop to dock: 13' 3"W x 17' H
Stage access doors
Stage left: 6' 10" W x 5' 10" H
Stage right: 6' 10" W x 5' 10" H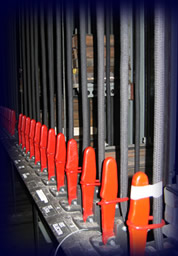 Rigging
20 single purchase counterweight/ 6 pinrail
House plot Rigging Schedule available
Soft Goods
Main act curtain; main traveler, 3 sets of legs
3 borders, blacks, 50% fullness
Cyclorama, curved, white bleached
House plot Rigging Schedule
Lighting
ETC Senor SR 48 dimmers
2 racks; 192 dimmers total
155 circuits
ETC Insight 3 console
House lights ETC Unison
DMX -5 locations; 2 sl, 2 sr, 1 beam
Remote focus unit sr and 2nd beam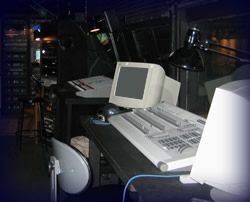 Control Room
Audio

Allen & Heath GL 2000 Console; 32 input/2 stereo input

4 Output/2 main Output/4 auxillary output
Amplifiers:


QSC CX 302 (2)
QSC CX 502
QSC CX 702
QSC CX 902
QSC CX 1102 (2)
Hafler P-1500
Crown D-75A
Speakers:


JBL 2 VS-3215-9
JBL 2 VS-2110
JBL 2 VS-125HS
JBL 6 8340A
JBL 4 8330A
JBL 2 Control 25-BLK
Stage Monitor System:


Mackie 1604 VLZ Pro console
Teac CD P1120 deck
Mackie FR Series M-1400 amplifier
Crown K2 amplifier
Crown Com Tech 810 amplifier
Community CSX 38-S2 monitors
PAS T-1212 monitors
Microphones:


12 Shure SM 57
2 Shure Beta 58A
2 Shure 588sd
2 SM-58 wireless handheld
1 LS 114-W wireless lavalier
Microphone stands:


6 Banquet stands
5 Round base straight
5 Round base/ 3 triangle base boom
Processors, etc.:


TOA MP-1216 monitor
Symetrix 302 pre-amp
Shure DFR 11EQ digital
JBL DSC 260A controller
Rane SM 26B splitter
Extron SW4-AR/HVxi switcher
Extron SW6-SA/MX switcher
Videotek RS12A router
AutoPatch 4YDM
Lexicon DC-2 controller
Crestron CNMSX-Pro
Faroudja DVP-3000
Furman Power conditioners
Playback:


Pioneer DVD V7400
Sony SLVR-1000 S video
Philips CDC 751 CD
Denon DR M20 cassette
Teac 2300sx deck
Overhead Projectors:


Kodak 35mm AF-2
DP 8gv video/RGBHV
Clear Com:


MS 440 station
St. manager sr/ 1- rigging sl/2- booth
House plugs:


14 channels stage-booth
A/V RGBHV RCA inputs in: stage manager console, stage right apron, stage left apron, control booth (2)
Category 5 on stage/booth
Assisted Audio System (for Hearing Impaired):


Senheiser SI-1015
8 headsets
Other:


2 director (Whirlwind) DI
14 ch snake stage
Steinway & Son 7' Grand "B" #385832
Mix position:


From booth
Alternate Mix FOH uses 6-8 seats
Related Space
Dressing Room:
Upper level includes make up mirrors/lighting
Restrooms with shower
Access: stage right; crossover shop
Small Green room:


Stage level; off stage left 10' x 13'
Access: Stage Left
Large Green room:


Upper level include couches & costume racks
Portable piano for practice
Sink 20' x 18'
Access: Stage left; crossover shop
Dance warm up area:


Upper level includes fixed dance bars; mirrors 24'x18'
Access: stage left; crossover shop
Lobby:


Front of Theatre - 105' L x 16' W
Ticket booth, available for reception
Production Office
Small Kitchen:
Off of lobby; refrigerator, stove
Access: In Lobby; audience left