Facilities
See Also:
Booking
|
Rates
|
Technical Specs
| Facilities |
Stage Dimensions
|
Seating
|
Theatre Tour
The College of San Mateo Theatre is a formal, fully equipped theatrical facility. Make up rooms and restrooms upstairs can accommodate a moderate cast comfortably, with restrooms adjacent.
Our 400-seat facility with state-of-the-art surround-sound, a new lighting control system and convenient parking is the site of our many college events such as plays, concerts, dance performances, lectures and graduation ceremonies.
Our new sound system is Dolby Surround 5.1 and is THX Certified. From film, to live sound, our auditorium enhances any production with superior audio quality.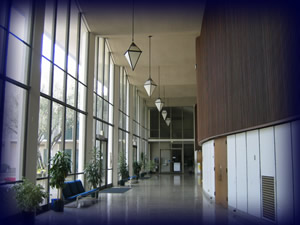 Lobby
The lobby features a small kitchenette with refrigeration and a microwave.
Upstairs Galley
A galley upstairs is available for use for relaxing before, after or in between appearances. Entrance to galley is from stage left. Large space for our dance clients is available upstairs, with masonite floor for practicing turns and stretching out.
Stage
Our stage features a floating masonite floor, with a width of 32' by a depth of 38' of working space. The apron apex is 17' from the proscenium wall, leaving ample room for podium placement for meetings.
Proscenium height is 18', with a width of 32'.
Three set of legs, one black back drop and a cyclorama are available for use.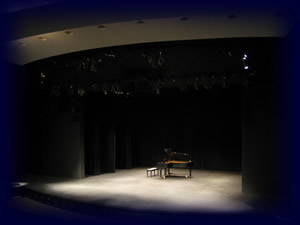 Box Office
The box office is located in the lobby, on the south side upon entering the building. Box office is available for use.
Seating
Our seating area features brand new upholstery for comfortable viewing and participation with any production. A seating chart is available for clients wishing to sell tickets with preferred seating. Seating for Physically challenged folks available as well. See theatre manager.