Meet the Faculty
Theresa Martin
Title: Professor of Biology
Degrees: M.A. endocrinology, UC Berkeley; M.S. exercise science, UC Davis; B.S. physiology and cell Biology, UC Santa Barbara
Teaching Experience: Since 1989
Career Highlights: CSM professional enrichment co-coordinator (2012-present); chair of Professional Development Committee (1998-2000)
Hobbies: Reading, trail running, mountain biking, knitting, cooking

Quote: "No matter how busy you may think you are, you must find time for reading, or surrender yourself to self-chosen ignorance."
- Confucius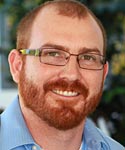 Jeramy Wallace
Title:
Assistant Professor of English
Degrees:
M.A. English, B.S. biology/biochemistry, Notre Dame de Namur University; Certificates in the teaching of composition and post-secondary reading, San Francisco State University
Teaching Experience:
Since 2011
Career Highlights:
CSM professional enrichment co-coordinator –
Basic Skills (2012-present); Stanford human rights fellow (2012-13)
Hobbies:
Hiking, camping, reading, and spending time with the family

Quote:
"Originality is the one thing which unoriginal minds cannot feel use of"
- John Stuart Mill