Alumni Ambassadors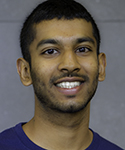 Shawn Lal
A graduate of San Mateo High School, Shawn Lal is a 3rd year student at CSM majoring in economics and intending to transfer to San Diego State University or the University of Oregon. Shawn's dream is to one day work at Apple as a senior director of finance and management. He is very active in campus life and is passionate about helping fellow students. In his spare time, Shawn enjoys playing basketball, staying active, and traveling.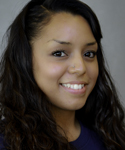 Jasmine Flores
Jasmine Flores is a graduate of Newark Memorial High School and completed her engineering transfer requirements at CSM. Her educational goals include pursuing a PhD in Engineering and working as an environmental engineer. Jasmine is currently a student at San Jose State University. In her spare time, she enjoys watching sports, running, video games and watching comedies.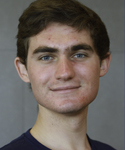 Jason Dutton
Jason Dutton is a Westmoor High School graduate and is in his completed his transfer requirements at CSM. The philosophy major enjoys politics, romantic comedies and any chance to expand his horizons. His educational goals include both going to law school and pursuing a doctorate in philosophy with the hopes of teaching at a community college. In addition to being an Ambassador, Jason worked as a tutor for College of San Mateo's Learning Center. He also served as a senator in student government. Jason currently attends UCLA.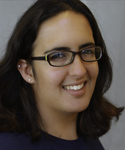 Eleni Jacobson
A graduate of San Mateo High School, Eleni Jacobson is in her final year at CSM. As an Environmental Policy major planning to transfer to UC Davis, she hopes to one day open a community environmental education center in the Bay Area. When asked why she chose to come to CSM, Eleni said, "for its excellent academic reputation and so I could continue to network and make connections in the Bay Area." In her free time she likes to bike, hike, and recycle.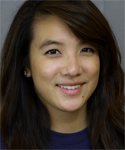 Sarah Lowe
Sarah Lowe is currently a student at UC Davis. She completed her transfer requirements at College of San Mateo. While attending Mills High School, Sarah was also a Concurrent Enrollment student taking college level coursework before graduating from high school. Sarah was inspired to become a Student Ambassador to get involved with the campus community and gain leadership experience. She is currently the President of the Alpha Gamma Sigma (AGS) honor society. Sarah hopes to travel the world after finishing her degree.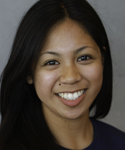 Janelle Raymundo
A graduate of Westmoor High School in Daly City, Janelle Raymundo completed her AA at CSM along with transfer requirements. The sociology major is currently enrolled at San Jose State University. According to Janelle, "CSM definitely helped me prepare to transfer a four-year institution." In her spare time, Janelle enjoys watching movies and spending time with friends and family.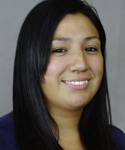 Estela Garcia
Estela Garcia is a graduate of Menlo Atherton High School and completed her studies at College of San Mateo in the Administration of Justice program. When reflecting on her experience at the College, Garcia said, "The professors here are not only your professors but they are also your friends and are there to help you succeed in any way possible." She is also a proud mother of two and was part of EOPS at CSM. She loves being a Student Ambassador to promote the many great services the program has to offer. Estela recently graduated from San Jose State University with a degree in justice studies. She currently works for the CSM health center conducting outreach for the affordable care act.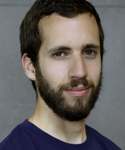 Mario Rossetti
Mario Rossetti is a graduate of Moreau High School in Hayward. He found College of San Mateo to be a solid alternative to going to a CSU or UC for general education while saving money. When asked about his experience, the psychology major said, "I have had a great experience at CSM. Throughout my two years at CSM, I have been fortunate to have some great professors, counselors, and friends who have helped me on my journey to receiving my degree." Mario has always had a passion in giving back to the community, which is reflected in his experience. After his time at CSM, Mario looks forward to transferring to San Francisco State University. In his spare time, Mario enjoys spending time with family and friends and playing soccer. Mario is currently a student at San Francisco State University.
Kelsey Harrison
Kelsey Harrison is a graduate of Pescadero High School and served as Lead Ambassador in her final year at CSM, Kelsey is currently pursuing her degree in sociology at UC Davis. According to Kelsey,"Community College has allowed me to explore many different majors and has given me some time to decide what I really would like to major in." When she is not studying or working, she enjoys photography, spending time with friends and family, volunteering with the South Coast Children's Services Board of Directors and going to the gym.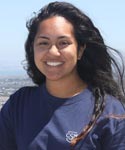 Melissa Aliu
When reflecting on her time at CSM, Melissa thought of the many doors that opened for her at CSM after she graduated from El Camino High School. According to Melissa, "I chose CSM because of its accessibility and the diversity it strongly represents." Her goal as an Ambassador is to help her peers and high school students succeed and to give back to the Polynesian community. Aliu has done just that and has transferred to UC Santa Cruz majoring in sociology and was the recipient of the prestigious Karl S. Pister Scholarship. In her spare time she enjoys working out and singing along to 80's tunes.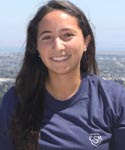 Paola Alunni
San Mateo High School
A graduate of San Mateo High School, Paola Alunni has completed her studies at College of San Mateo. In addition to her work as a Student Ambassador, Paola served as a student senator. The Architecture major enjoys music, exercise and is fluent in Spanish. Paola is currently an architecture student at UC Berkeley.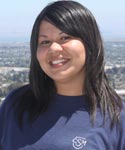 Janet Barajas-Mendoza

Redwood and Sequoia High Schools
Janet Barajas-Mendoza was an EOPS student at College of San Mateo and majored in Administration of Justice. According to Janet, "Being a Student Ambassador allows me to share my experience and knowledge with others. I always have the urge to help others achieve success." Her spare time is spent with her husband and three sons. Janet has finished up her transfer classes at CSM and is a student at CSU East Bay.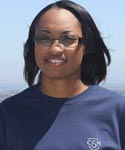 Shamariah Jointer
Hillsdale High School

Shamariah Jointer is a native of Oakland, California native and a former Marine Corps Sergeant with service spanning the globe. Shamariah is currently and engineering student at the University of Texas, San Antonio.. An avid NBA fan and seafood lover, Shamariah was honored to serve as the Vice-president of the CSM Veterans alliance club and also worked at the CSM Veterans Resource Opportunity Center. According to Shamariah, "Marines know all about having a proud heritage, it's something we take very seriously, I'm extremely proud that soon my name will be added to a host of other great CSM alumni".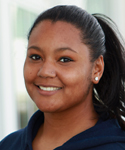 Kaylynn Nicks
is a graduate of Immaculate Conception Academy in San Francisco. During her time there, she participated in the Academy's corporate work-study program, which allowed her to gain two years of entry-level work experience while still in high school. Kaylynn was accepted into universities after her senior year, but she chose CSM for its beautiful campus and dedication to excellent student services. Kaylynn's goal is to transfer to a 4-year university to earn her bachelor's degree. In her spare time, she enjoys blogging, practicing film photography and volunteering at various non-profit organizations.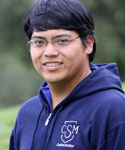 Alexis Madayag
is a graduate of Carlmont High School and San Francisco State University. He is currently a graduate student at Notre Dame de Namur University. "I was able to work with the best professors and instructors in the Human Services department who taught me real-world case scenarios in the industry and I learned professional counseling skills to help serve others in need," he says. Along with his work as a Student Ambassador, Alexis has interned for KCSM-TV and performed at Electronic Music concerts. When he's not helping students or studying, Alexis wears many hats. He enjoys being a DJ, volunteering at local non-profits, and shooting and editing video pieces. Alexis currently works as a graphics assistant in College of San Mateo's Community Relations & Marketing department.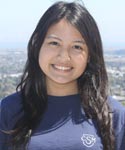 Proud Benyasri
has completed her studies at College of San Mateo. She began her time at CSM in the Concurrent Enrollment Program while attending San Mateo High School. In addition to being involved with the Student Ambassador program, she was also a student senator, cheerleader and a member of both campus honor societies. She is fluent in Thai and she recently graduated with a degree in Sociology from UC Berkeley.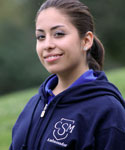 After graduating from San Mateo High School,
Arianna Vega Avendaño
was drawn to CSM because of the wide array of programs and support services such as EOPS and the Transfer Center. "The knowledge I am gaining at the college, I hope to pass on to a future student as a Student Ambassador," Arianna said. Now a graduate of Cal State East Bay, the Psychology major served as the first Lead Ambassador for the program and now works as a counselor in the mental health field. One day she hopes to work as a therapist with a focus on life coaching and anger management. When she's not working or going to school, Arianna enjoys scrapbooking, watching movies and spending time with family. She was also the keynote speaker at CSM's 2014 commencement ceremony.
Jenna Finegold
completed her second year at CSM in 2009 and is a graduate of Mills High School. Jenna enjoys cooking and dining out with friends on her spare time. She was also an active member or the Associated Students of College of San Mateo and coached a middle school volleyball team. Jenna attributes most of her growth since high school to the opportunities and support that is given at CSM. She believes that attending a community college has allowed her to mature and choose the goals that she would like to pursue. After her time at CSM, Jenna studied abroad in Spain and attended UC San Diego. She is currenly attending UC Hastings Law School.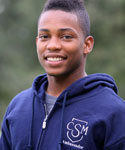 Shawn McGriff Jr.
completed his studies at College of San Mateo. A graduate of Hogan High School in Vallejo, CA, Shawn came to CSM upon the influence of friends on the football team. On his experience at CSM, Shawn said, "I have loved every moment at CSM since I have been here." Shawn graduated with an A.A. in Social Science in May 2011 and is a graduate of San Francisco State University. His goal is to eventually teach. Shawn enjoys spending time with his family and playing sports.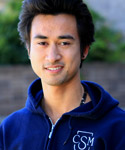 Up until his junior and senior year in high school,
Justin Hoffman
did not care much for school. He turned it all around by realizing that he had the potential to become a great student. When reflecting upon his experience, Justin said, "I went from having a GPA below 2.0 to earning a 4.0 for the first time in my life." Justin was an honor student and student senator at College of San Mateo. He is now a graduate of UC Berkeley and his career goal is to work as a social entrepreneur in the developing world. In his spare time, Justin enjoys exercise, reading and researching.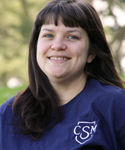 Thanks to advice from a friend and her sister, Hillsdale High School graduate,
Sandie Bello
, decided to return to school to pursue higher education at College of San Mateo. "It has a great reputation for academic excellence and is a beautiful campus. The instructors at CSM are top notch, very helpful, wise and enouraging ," Bello said. In her time at CSM, Sandie has taken advantage of support programs like EOPS, counseling and the career center. Sandie attended Cal State East Bay as an Anthropology major.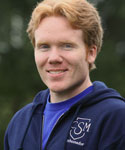 After graduating from CSM in 2006,
Eric Thurston
transferred to UC Berkeley and earned a bachelor's degree. He returned to CSM to take Fire Technology courses and has interned as a student professor for the Philosophy Department. As a Student Ambassador at CSM, Eric felt that he was able to make a meaningful contribution to others. He plans to pursue graduate studies iand hopes to become a firefighter. Eric's other interests include yoga, rock climbing, archery, painting and cooking.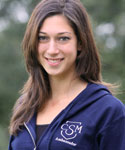 Following the footsteps of her brother and cousins, San Mateo High School graduate,
Anna Keilo
, decided to attend College of San Mateo. After her second year at the college, the Psychology major and was admitted to UCLA and completed her bachelor's degree. When asked why she chose to become a Student Ambassador, Anna said, "I was confused as a senior, not knowing what college to go to and how to go about it. I would love to help students out so they don't have to feel the way I felt." In her spare time, Anna enjoys reading, watching movies, exercise, shopping and playing softball. Currently, Anna works in the corporate offices of Charlotte Russe.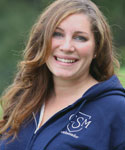 Jacqueline Guilbault
is a Mills High School graduate and plans on pursuing a career in marketing and public relations. Her previous experience includes volunteering for Congresswoman Jackie Speier, writing for
The San Matean
and interning for the marketing department at AAA. Jacqueline transferred to and graduated from the University of Nevada, Reno after completing her studies at CSM in 2009. She has reached her career goal of working in marketing internationally.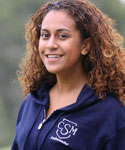 Melissa Vizcarra
graduated from San Mateo High School and is studying administration of justice at CSM. She hopes to one day be a social worker and in the Fall of 2010 transferred to San Francisco State University with a major in Criminal Justice. Presently, Melissa works for a mental health agency called Edgewood Center, facilitating two groups: Women's Group and Anger Replacement Therapy. She's also involved in California Youth Connection, a group that discusses governmental policies and is run by foster youth. Aside from this, Melissa enjoys watching movies and "cooking up a storm in the kitchen."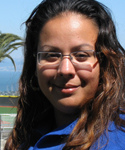 CSM alumni,
Yesenia M. Aviles
, hopes to someday become a professor of Latin American studies. She already possesses two human service certificates: one in community health and the other in family development. "I hope to contribute and give back to the community, especially to low-income single parents and high risk youth," she says. Yesenia is a single mother herself, raising three children. She enjoyed her work as a Student Ambassador where she educated high school students who, Yesenia says, "are our future leaders." The next step on Yesenia's educational journey has begun at UC Davis.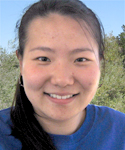 Lina Li
enrolled in summer courses at CSM while she was attending San Mateo High School and, upon graduating, decided to continue taking courses at CSM because she loves the diverse environment and professional, caring faculty. She has completed her second year at CSM and graduated from UC Berkeley with a degree in English. As a Student Ambassador, Lina felt that she could give something back to CSM because she "gained priceless knowledge that better prepares (her) for future challenges." She enjoys spending time with friends, swimming, photography, and karaoke.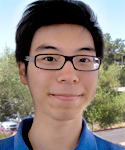 Upon graduating from high school in Hong Kong,
Sunny Shek
wanted to enroll in college courses at a school in the United States. Based upon a recommendation from his high school teacher, along with encouragement from a friend, Sunny decided to attend CSM and major in economics. Sunny settled into the CSM environment by taking advantage of services offered by the International Students office as well as the Writing Center. As an ambassador, Sunny enhanced his communication skills, especially public speaking. Sunny enjoys watching movies and traveling. In the fall of 2009, Sunny has traveled south to Los Angeles to pursue his bachelor's degree in Economics at the University of Southern California.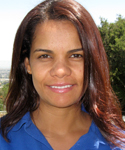 A native of Brazil,
Heliane Marlowe
chose to attend CSM after relocating to the Bay Area and earned an associate's degree in Business Administration in 2006. "CSM offered all of the support I needed to take classes," she says. Heliane is completing additional courses at CSM and plans to transfer to San Francisco State University. She hopes to become an ESL instructor. In her spare time, Heliane enjoys participating in outdoor activities such as rock climbing and hiking, as well as spending time with her children. She hopes that they will attend CSM after graduating from high school.