Luis Carlos Alvarez

, Stanford University, Astrophysics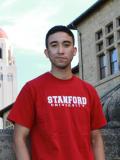 Luis Carlos initially attended CSM as a Middle College student in his junior year of high school because he needed more academic stimulation than regular high schools offered. By graduating, he became the first in his family to earn a high school diploma. He decided that his best course of action would be to continue to attend CSM as a college student with the goal of transferring.

As an astrophysics major, he needed great resources like the Math Resource Center, the Integrated Science Center, and the Learning Center on campus to aid him in his studies. With so much aid, wonderful professors, and a supportive administration, CSM became the place he grew academically, intellectually, and personally.

Thanks to his astronomy professors at CSM, who are collaborators in the San Mateo Arctic Research Telescope (SMART) Project, he received an internship in the Arctic Circle with the Haughton-Mars Project and NASA through CSM. This experience helped him establish a firm foundation for my studies at CSM and eventually Stanford University.

He recommends that prospective students take advantage of the tremendous resources offered at CSM, such as the transfer services, financial aid, admissions, counseling, and the host of centers for studying; all have been pivotal to his success and satisfaction at CSM.

At Stanford University, Luis will engage in physics, math, astronomy, and computer programming classes that will increase his understanding of astrophysics; he hopes to pursue a Ph.D. in the area and lead research concerning extra-solar planets -- planets outside our solar system.

Luis says that, "CSM laid the foundation for my success; if you work hard, study hard and thrive here, I guarantee it can do the same for you."


Student Profile

The students in Middle College, selected from the SMUHSD, are high potential juniors and seniors who have not lived up to perceived expectations and potential as a high school student. These students are often creative and independent thinkers, artistically talented, sometimes gifted in one area, such as music, art or computers, but are generally not connected to the typical high school scene.

They may have relatively high scores on standardized tests, but their grades and behavior may not reflect this academic potential. They may be students whose attendance and rate of course completion is poor. Although students selected for Middle College may have attendance problems, they will not exhibit extreme discipline problems and will demonstrate the potential maturity to cope with the relative freedom of the Middle College environment.

A segment of the Middle College population has done well in high school, yet feel that their educational needs are best met on a community college campus. They have opportunities to take classes that meet their career or college interests, they're surrounded by individuals who are motivated to attend college, and they're given the responsibilities of a college student.

Our students have high school GPA's that range from 4.0 to 1.8. Recent Middle College graduates have attended UC Berkeley, UCLA, UC Santa Cruz, UC Davis, UC San Diego, MIT, San Francisco State, St. Mary's (Moraga), University of San Francisco, Seattle University, Pepperdine, Washington, and San Jose State after completing Middle College. Several other students have continued their education at College of San Mateo and other community colleges.

Students are recommended for admission by teachers, counselors, and administrators. Other application procedures include student testing for reading and writing, an informational meeting with parents/guardians, and interviews with students and parents/guardians.


Student Experience Testimonials

"In order to be successful in a college atmosphere, it takes perseverance, commitment, and dedication. Many people take advantage of having so much freedom, but independence has taught me the boundaries for myself as well as better time management."

"I have absolutely loved every minute of Middle College; it took me out of the high school scene and into a place where I could be around mature people, and I could be responsible for my education."

"I learned and grew a lot. I loved going to school again and I felt comfortable with the atmosphere and fellow students. I was able to focus on my future goals and make them more specific."

"Coming to Middle College was the best decision I made during my high school years. My only regret was that I didn't come here sooner."

"Before this program, I was a shell of a person. I went through the motions that high school requires with no emotion, no passion, no interest whatsoever. This program has given me much more freedom, the leeway to mature and the ability to take responsibility for myself and, as a result, I have developed my own sense of direction."

"Middle College created a tight "family" in some ways that high schools couldn't. I think we had a great class as well. Everyone was needed to make this a complete experience. Unfortunately, things come to an end, but this end made way for even more beginnings than we would have had elsewhere. It wasn't the "program" that was successful, it was the people (teachers included)."

"I know what it is like to attend a college and I am very clear about what I will do in the future. I know I would not have been this clear about my future if I had stayed at my previous school."

"I like how teachers actually enjoy teaching; they want to be here. You guys don't just accept your jobs because you're too old to find ones that interest you more. You were made to teach, and that's very important."

"High school was just a place for me to lose myself and walk around in a daze. Middle College snapped me out of it and reminded me that I wanted to go to college. I honestly don't know where or who I would be if I hadn't come up to CSM for this program."