Meet the Staff
Catherine Firpo
Title: Faculty Liaison for the CSM Cares Mental Health Grant;

Adjunct Professor

of Psychology
Responsibilities: Develop and provide training and programs for faculty, staff, and students in the sphere
of mental health awareness and solutions.
Years at CSM: Since 2012
Education: Ph.D., M.A., Cross Cultural Mythologies and Depth Psychology, Pacifica Graduate Institute;
B.A., Fine Arts, San Jose State University
Other Interests:
Teaching cycling, riding my Bianchi, drawing, painting, poetry and filmmaking.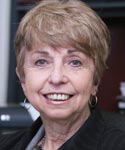 Gloria D'Ambra
Title:
Staff Assistant
Responsibilities:
Schedules appointments for Health Services & Psychological Services, manages
international student insurance and campus accident insurance, handles absence notifications and
P.E. Waivers for health reasons, coordinates the intake and billing process for Family Planning Services
(FPACT), and assists in coordinating the health fair and other events.
Years at CSM:
Since 1986
Education:
Diablo Valley College and College of San Mateo/Business
Other Interests:
Exercising, cooking, and spending time with seven grandchildren