Job Fairs & Events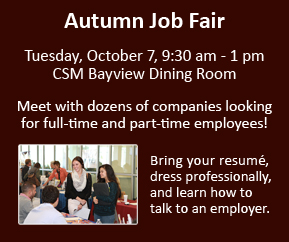 The Autumn Job Fair 2014 will be held on Tuesday, October 7, from 9:30 am - 1:00 in the Bayview Dining Room (cafeteria) on the second floor
of College Center Building 10.
How to Prepare for the Job Fair


1) Attend a workshop on "How to Write a Great Resume",
offered at two different times:
Wednesday, September 24, 2:30-3:30 pm
Wednesday, October 1, 11 am - 12 noon
Location for workshops is College Center Building 10, Room 191 (bottom floor, outside entrance from east side of building). No registration required.
2) Practice interviewing skills by using The Perfect Interview software.
You can use your home computer if you have a webcam.
Visit
perfectinterview.com/csm
to set up a user name and password.
Why attend the Job Fair?
Ask questions and learn about careers and current
part- and full-time job openings
Discuss current and potential internships
Practice talking with employers
Bring your resume and get a quick critique
Meet with a career professional to practice your
introductions to an employer.
For Employers
To register for the Fall 2014 Job Fair, set up an account on
CSM JobLinks
, if you don't have one yet. Be sure to select "Career Fair" as a service you would like to receive. You will receive information about the fair - registration will be from September 16-30. For more information, email
csmcareerservices@smccd.edu
or call (650) 574-6116.
Participating Employers For Fall 2014 to be announced
Organization Name
AT&T
Bed Bath & Beyond
BlueLight
Bon Appetit @ Google
Boys & Girls Club of the Peninsula
California Department of Corrections and Rehabilitation
California Staffing Service
CareLinx
Child Development Inc.
City of Burlingame Parks and Recreation
City of San Mateo
Cleantech Open
Coldwell Banker Commercial
College Nannies and Tutors
Comcast
Goodwill of San Francisco, San Mateo, and Marin
H&R Block
Home Depot
Massage Envy Spa
Nudgit, Inc.
Pacific Autism Learning Services
Palo Alto Staffing
Panda Express
Peninsula Family YMCA: Aquatics
Peninsula Television, Inc.
Piazza's Fine Foods
San Francisco Sheriff's Department
San Mateo-Foster City School District
Soccer Shots
Sophie's Stress Free Soirees
Sprig, Inc.
Stanford Park Nannies
Tax-Aid
The Creative Learning Loft
The Home Depot
The Little Gym of Millbrae
The Peninsula Regent
The Ritz-Carlton, Half Moon Bay
San Jose Police Department
THINK Together
Tobi.com
Town + Country Resources
UNIQLO